Kitchen cabinets are not exactly an exciting topic for most people. Then again, many people have not experienced an impressive kitchen designed by the right hands. Traditional kitchens are full of bland kitchen cabinets that are simply empty spaces for kitchen utensils and supplies.
It is becoming increasingly popular to have more than just an ordinary kitchen in your home. Kitchens are one of the most important parts of a home, and they can be the make-or-break point on whether a house is sold or bought. Whether you're building or remodeling, functional kitchen cabinets can turn any kitchen into an impressive part of the house.
What Functional Kitchen Cabinets Have to Offer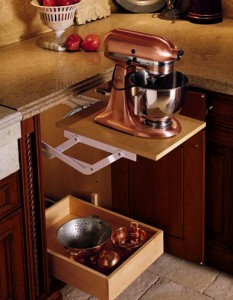 So what's all this functional cabinetry talk about? Imagine kitchen cabinets that are specifically designed to store certain appliances or common kitchen products. One common example is custom drawers that efficiently store plates in a convenient area where they are needed most. Another example would be the space-saving pop-up mixer stands that can come out of any drawer, cabinet, or other area of the kitchen counter to give you easy access during food preparation.
Relying on silverware trays often leads to unorganized and cramped silverware storage. Custom kitchen cabinets can be designed with built-in silverware inserts to make things much easier. These inserts can also be designed for utensils and knives, which helps keep your kitchen arranged and clean. There are even custom kitchen cabinets that can store spices for easy access and identification. For someone who enjoys being in the kitchen, or relies on the kitchen often, nothing feels better than a well-organized kitchen space.
Additional Options for Functional Kitchen Cabinets
Do you enjoy wine? Many people do. Are you not in a home with a wine cellar or space for a wine refrigerator? This is not a problem because kitchen cabinets can be customized to add wine racks. This is one of the many perks to having your kitchen designed or remodeled with functionality in mind.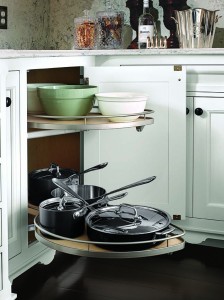 If you have many appliances, one popular "kitchen cabinet" of sorts is an appliance garage. Appliance garages will store your appliances in style, and they will fit right in with the kitchen. It's great for keeping any appliance as well as large cookware. Lastly, custom kitchen cabinets with pull out shelving make getting what you need easier than ever. It's also much easier to put things away with pull out shelves.
Functional kitchen cabinets are a great way to turn a regular kitchen into a modern kitchen that is easy to use, and one that you'll be proud to show off. The options at your disposal are vast, and with the right team you can turn your kitchen into one that everyone will envy.