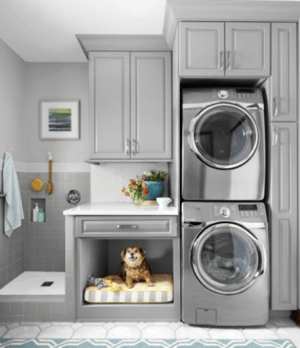 While you might not be dressing Buster in Chicago Cub regalia (or are you??), that doesn't mean s/he doesn't play an important role in your life. And, if your dog(s)...or cat(s), or bird(s), or rodent(s)…are allowed to roam free in your household, it's worth keeping them in mind when planning a Chicago home remodel.
Quick and Dirty Tips for a Pet-Friendly Chicago Home Remodel
Those pets are quick, and they can get dirty (we're all prone to accidents from time-to-time, right?), which is why we've put together some quick-and-dirty suggestions for a kitchen and/or laundry room remodel that accommodates your favorite furry and feathered friends.
Flooring matters
Pets will make or break your flooring. Any household with dogs, cats or other pets that roam-free should de-prioritize carpet in the main living/pet areas, focusing on hard-surface flooring that's resistant to scratching and etching, not to staining, and that are easy to clean and maintain.
Tile floors are the most resistant to pet damage, but hardwood floors work too. Keep in mind that softer species of hardwoods will be more likely to scratch or show signs of pet wear-and-tear so review hardness ratings with your design-build team when making selections.
Brazilian hardwood and ipe, hard maple and bamboo are all hard options, least likely to show toenail marks. Ceramic tiles designed to mimic wood look remarkably realistic, which is why they're more popular in both kitchen and bath remodels. Finally, laminate hardwood is an option – highly-resistant to scratching but considered a lower-tier product, so keep that in mind.
Feeding and watering stations
Where do you currently feed your pet(s)? Where do you want to? Feeding stations can be easily and stylishly accommodated in a kitchen or a utility room, tucked away under attractive cabinetry and along-side pull-out food bins so everything is accessible.
Need a place for Fido to bathe?
If you're planning a laundry room or basement remodel, consider installing a pet washing station in your home. At first read, that may seem excessive – but pet washing stations accommodate more than meets the eye.
In addition to providing an easy place to quickly rinse muddy paws, not to mention the convenience of pet bathing, these floor-installed or low-profile washing stations come in handy for kids, adults who love to garden or who come home muddy after a run or bike ride, to wash muddy boots – and the perks continue.
Enhance a wash station by leaving room for post-bath shakes, having shelving/storage for all the bath- and grooming-accessories, and by installing non-slip flooring in the adjacent space.
What about a resting spot?
With a well-designed home, we can find all kinds of nooks and niches to transform into your pet's lounging area. Kitties like to be higher up, while pooches tend to like ground-level or a simple step or two up. We'll find just the right spot(s), top it with a durable countertop surface and then you can set your pet's favorite bed or cushion in place.
Interested in a Chicago home remodel that's designed for your family but accommodates your beloved pets? Visit us here at Kitchens & Baths Unlimited and we'll be happy to provide you with pet-specific tips and suggestions.
Photo credit: Morning Chores