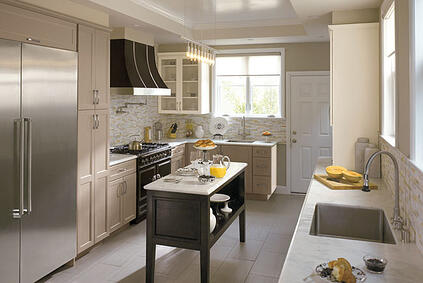 In our 30 years of remodeling in the Chicagoland area, we have seen many small kitchen scenarios with limited space for wall cabinets. If you have a small kitchen, odds are you lack cabinet storage. And, where there's a lack of cabinet storage, there's potential for countertop clutter since the countertop becomes the "store-all" space for overflow items.
Fortunately, there are smart design solutions - even for the tiniest of kitchens.
5 Smart Chicago Kitchen Remodeling Ideas For Extra Storage
Here are a handful of smart storage options if your kitchen is lacking in the wall cabinet department.
Consult with a kitchen designer. Sure, we're kitchen designers and have a bit of a bias on this one, but hear us out. Firstly, consultations are free and we're happy to take a look at your kitchen and give you ideas. There's a chance your kitchen layout could be tweaked a bit, yielding more room for wall cabinets. You don't have to act now, but the information you glean from design professionals will help you put a Chicago kitchen remodeling plan together as time and budget allows.


Use stackable shelf inserts. If you live in a home with minimal kitchen cabinets, odds are the ones you have are stock cabinetry - rather than custom cabinetry. In other words, we bet there's a ton of wasted space that could be put to use. If you can't afford to have custom cabinets built, use mesh stacking shelves. These are a more efficient way of ensuring every inch of top-to-bottom cabinet space is usable. Another idea: use a tension rod across the top-third of the cabinet box underneath the sink. Then, hang spray bottles by their handles, freeing up more floor space.


Customize your drawers. Just like stackable shelves make cabinet boxes more efficient, customizable drawer inserts will do the same for kitchen drawers. Maybe it's time to convert a large drawer into a storage space for pots and pans, or your dishware. Visit a kitchen design showroom to get ideas on how to make existing drawer space more efficient and reorganize your kitchen in a way that works better for the household.


Hang it up. Just like the unused cabinet space, air space between the ceiling and your head can often be put to work. If you have a kitchen island or a countertop without a cabinet above it, consider installing a hanging pots-and-pans rack, which can also be adopted to hang commonly used cooking utensils. Installing a pegboard on an unused wall, or the side of a pantry or existing cabinet, is another means of accomplishing the same thing.


Open shelving. Open shelving is one of the smartest storage solutions for small kitchens because it lacks a big cabinet box, which can make a small kitchen seem smaller. Install them where you can or, if there's room, add one about 18-inches from the ceiling for serving platters, hardly-used cookbooks and other items that you can access as needed via a stepladder.
Need assistance making the most of your wall cabinetry? Schedule a consultation with Kitchens & Baths Unlimited and benefit from decades of Chicago kitchen remodeling expertise.