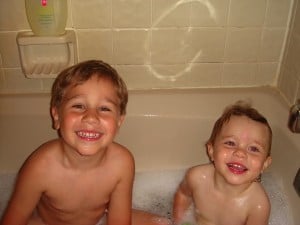 Renovating or remodeling a hall bathroom typically means you're renovating the kids bathroom. The problem with this is that kids need different things than adults, and there's a good chance adults will be using the hall bath when you have company or host large dinners or social gatherings.
3 Kids Bathroom Ideas to Keep Your Hall Bath Stylish and Functional for Adults
For that reason, we want to provide a list of bathroom ideas to make the room safe, visually interesting and functional for the kids, still yielding a space that adults will appreciate as well. Believe it or not, you can have the best of both worlds.
Here are three great ideas for kids bathrooms that will make it an equally appealing guest bathroom if needed.
Choose a lighter, brighter color scheme. If you tend towards the more traditional and neutral, take this opportunity to branch out and

create a bathroom that's on the lighter and brighter side

. You may even opt to use a bold primary color you would never use elsewhere. Regardless, this will appeal to your younger bathroom users but, when done well, will be equally appealing to guests. One way to do this is to

keep a white palette and then use colorful accessories

, like towels, art, flower arrangements, etc. to perk it up. The yellow and green polka dot towels will be fine for Monday through Friday and they can be switched out for a more mature palette when guests are due to arrive. Even one fun, bright accent -

like this mirror frame

- can be enough to add youthful energy to a bathroom space without making it 100% Kid!


Add art in the bathroom. Art is a wonderful way to personalize your bathroom spaces. Look for high-quality art that is oriented towards children but attractive enough that it lends a sweet element to the space, even if it's the bathroom used by the executives at your company's year-end party. For

this kids bath

, we used a beautiful pale blue-green on the walls and the painting of the duck family portrait is cute enough to appeal to kids but not so cutesy that it's unable to be appreciated by adults. Again, notice the open cubby-style shelving for changeable accessory display.


Prioritize safety and ease of use. Choose finishes and fixtures that are safe and easy to use. Examples include

porcelain tiles that are non-slip

or natural stone tiles that inherently have more "grip" on the surface. Keep in mind that natural stone can be more abrasive for tender feet so use stylish area rugs in high-volume areas. Curbless showers are less of a trip hazard and faucets with levers are easier to turn on/off, diminishing water waste when children don't turn the faucet all the way off. Pay a little extra to

have glass shower enclosures

coated with low-maintenance finishes. If the kids don't squeegee the doors after they shower (which they won't), your glass will still look great in between adult cleanings.
Kids move fast and bathrooms are notoriously some of the most dangerous rooms in the house. Make sure your bathroom layout is as spacious as possible so there is plenty of room to maneuver. An added bonus to many of these kid-friendly features is that they make the bathroom accessible for anyone, which is a positive selling point down the road. (link: http://www.kitchensbathsunlimited.com/blog/bid/387955/Universal-Accessible-Bathroom-Design-Ideas). Contact Kitchens & Baths Unlimited to consult with a professional Chicago kitchen remodeler who has plenty of kids bathroom ideas for your upcoming renovation.