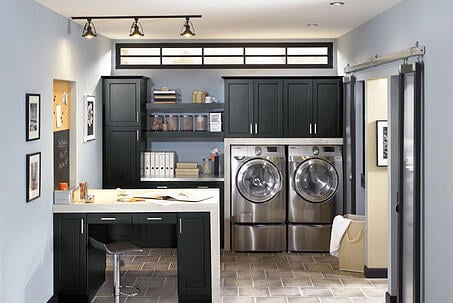 Your kitchen is looking spiffy, your spa-like bathroom is a nightly destination and now it's time to tackle the laundry room. We've written plenty on ways to go about a laundry room remodel you'll love. Now, we're going to offer up some of those extra improvements that will take your North Shore, Chicago laundry room remodel over the top.
Here are 6 Tips for the best laundry room remodel ever!
Raise those machines. Find the height that works for you and let's

get your washer and dryer up

and in an easy and ergonomically friendly height for you do to your laundry chores. All that bending and scooping isn't good for your body.


A floor drain. We are all destined to have at least one or five moments in our life where everything overflows. This is a major nuisance and can cause considerable damage if you aren't there to catch it right away. Or, you can install a simple drain in the floor (the rest of the plumbing's already in place, right?) and make it a minor nuisance to dry a wet floor, sans damage.


Add a dog washing station. Are you a dog owner? If so, your mudroom-slash-laundry room is the perfect space to

add a dog washing station

. Wet, muddy paws are easy to clean and dry when there is a contained area to do it in. You'll be surprised how handy it will become and we predict little humans - and even big ones fresh out of the garden - will appreciate a step-in, tiled area with warm water access.


A craft area. We can design custom countertops and cabinets to store your craft supplies and provide

a space for you to work on your projects

without cluttering up the main living areas. For this type of addition, we recommend lower countertops (31-inches rather than the standard 36-inch height for kitchens) so you can sit down comfortably. And, of course, don't forget to leave yourself some legroom.


Install a lower folding island. Have the space? Add an island. Like the kitchen,

an island or countertop space in the middle

of the laundry room is useful for everything from sorting to folding, scrapbooking projects, a space to groom pets, etc. Like the sewing table, this countertop surface should be lower than standard kitchen height since folding larger items and sheets requires more bending and reaching room.


Use a pre-rinse faucet in the mudroom sink. You'll wonder how you ever lived without one!

Pre-rinse faucets

are used in commercial kitchens because the high-pressure water makes rinsing plates a cinch. They've become increasingly

popular in kitchen remodels

as well. Now, we're seeing them in laundry rooms where they make pre-washing stained clothes or muddy boots much easier. Plus, you'll appreciate the improved reach they provide.
What additions made your Highland Park laundry room remodel a dream come true? Share ideas and suggestions with our readers below. In the meantime, Kitchens & Baths Unlimited is ready to implement these ideas for your remodel.