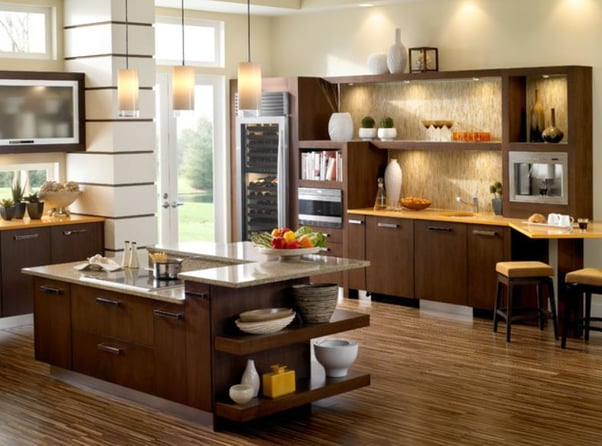 Bamboo is one of the leading options for hard surface flooring. Sustainability is one of the main reasons for this since mature, eco-friendly bamboo can be regenerated in just seven years - as opposed with the 40 to 100 years it takes a more traditional hardwood (like maple, oak or ash) to reach a mature, buildable age.
Here are bamboo facts for those considering bamboo as a kitchen flooring option.
Considering Bamboo For a Chicago Kitchen Remodel?
One of the fastest growing plants in the world, bamboo is actually a grass native to Asia. On a good day, it will grow as much as an entire meter! Another major bonus? When you chop down mature bamboo, it regenerates, which is one more point for the sustainability column.
After it's harvested, the skin and knuckles are removed and bamboo is sliced into linear lengths. These lengths are boiled to eliminate the sugars, starch and any resident insects. The boiled planks are then dried and planed into usable planks that are installed in their entirety or more thinly milled for use as engineered flooring.
Boiling, drying, and planing - notice the distinct lack of chemical-laden treatments? That's another reason bamboo is considered eco-friendly. Its production methods are typically much cleaner than other home finishing products.
Bamboo Doesn't Have to Be Light
In its natural state, bamboo has a light-blonde appearance. It brightens up a space and is popular with modernists because of its clean, unfettered look. That same light quality can be a score in the con column for homeowners who like a slightly darker, more demure flooring option.
Bamboo flooring manufacturers solved that dilemma by using a carbonization process to produce finished bamboo flooring in darker hues. The carbonization process involves pressure-streaming the planed planks, creating bamboo-hues that range from caramel to coffee. Be forewarned, however, that carbonized bamboo is not as hard, or as durable, as natural bamboo.
Pros and Cons of Bamboo Flooring
Here is a brief rundown of the pros and cons of bamboo:
The Pros:
Sustainable. We've already noted bamboo's sustainable attributes, but to prevent deforestation in an effort to grow more bamboo, select bamboo flooring products certified by the Forest Stewardship Council (FSC) or or Good Environmental Choice Australia (GECA).


Durable. Bamboo scores between 1380 (natural) and 1180 (carbonized) on the Janka hardness scale, used to measure the hardness of wood. That range is similar to the durability you can expect from maple or ash.


Stable. Due to the boiling, drying and steaming process - bamboo is more resistant to warping or shrinking, which is often a con for traditional hardwood options.
The Cons:
VOCs. Some bamboo products are made with adhesives that contain formaldehyde, which releases volatile organic compounds (VOCs). Look for products that are specifically marked low-VOC to improve indoor (and outdoor) air quality.


Difficult to refinish. Unlike true hardwood flooring, bamboo cannot be refinished. For this reason, it's imperative that you select high-quality bamboo that is harder, and more resistant to scuffs and scratches.


Stylized. Bamboo's look is innately modern, and will also work in transitional interiors. It can be difficult to integrate into homes with a more traditional or vintage interior design.
We think bamboo makes an excellent flooring choice for the home. When chosen well, the right bamboo flooring products will work well in a Chicago kitchen remodel. Contact Kitchens & Baths Unlimited to learn more about bamboo or to view examples of bamboo flooring used in some of our most recent remodeling projects.
Photo Credit: Houzz.com (TrinityMN.net)