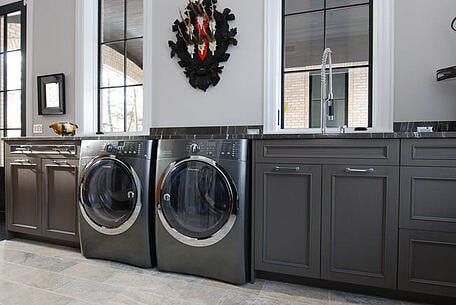 Ready to change that standard, unfunctional laundry and/or utility room into a space that's attractive, efficient and easy to use and maintain? Then you'll love the way design trends are moving when it comes to creating laundry and utility room spaces that invite you to work.
Chic Ideas for Your Chicago Laundry Room Remodel
Even if your company doesn't see or use these spaces often, your deserve a space that is visually inviting – and tailored to your work rhythm. Here are some trends to follow:
Plan it well
Like any remodel or re-design - the better you plan it beforehand, the better it will be in long-term. Think about how you use your laundry room:
Do you sort laundry there or elsewhere?
Do you fold laundry there?
Is laundry ironed in that space?
What other items, gadgets or gizmos are stored there?
Does it also serve as a mudroom?
Answers to these questions should drive your design.
Read, 7 Tips to Know Before Starting a Laundry Room Remodeling Project, for more things to think about.
Think monochromatic tones – and embrace them
Monochromatic is definitely the way things are trending – not only in laundry and utility spaces, but also in terms of kitchen and bathroom design. Don't equate monochromatic with "boring" or "bland," though. While fans of a neutral and timeless color palette appreciate the simplicity of a less bold approach, you can also create monochromatic designs around your color preferences – be they gray or blue, lime green or bright orange.
Things like tile patterns and layouts, grout options, cabinet glazes or two-toned finishes all help to make your monochromatic design more interesting.
Clever and personalized storage options
The same hyper-efficient storage options that exist in kitchen design – slide-out shelving, lazy Susans, customized storage shelves and racks –exist for the laundry room too. You can also take advantage of laundry-specific, space-saving additions such as fold down (or slide out) ironing boards, pull-down hang-dry racks, arrow hangers, combinations of exposed shelving and upper-cabinets, etc.
The goal is to keep everything stored away, exactly where you need it, without any countertop or shelving clutter in sight.
Integrate natural materials, textures and finishes
Try to integrate natural materials, textures and finishes for extra visual interest. Butcher block countertops, natural wood finishes (or exposed wood for open shelving), reed baskets for storage, jute area rugs, woven laundry bins, stone tiles – all of these natural and nature-inspired elements bring a fresh and clean look and feel to the space.
Integrate daylighting whenever possible
Don't overlook the importance of a layered lighting plan – including ample daylight whenever possible – when designing your laundry room. This especially true for basement-oriented laundry rooms that may feel like a dark cavern, rather than a well-lit, industrious workspace.
A thoughtful lighting design ensures you have ample natural light (whenever possible), plenty of task lighting when you need it, and access to more ambient light when tired eyes need a break from the glare.
Are you planning a utility or laundry room remodel this year? Visit us here at Kitchens & Baths Unlimited. We have plenty of ideas - as well as our own gallery examples – all ready to inspire your vision.