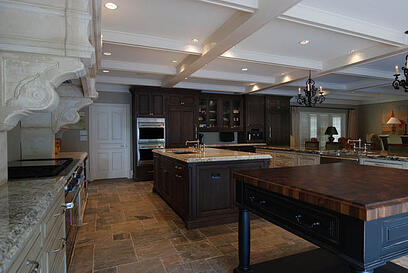 Deciding to renovate your kitchen is one of the most exciting yet daunting decisions you can make. As you invest in the process of kitchen remodeling in Chicago, you'll want to ensure that you get all the practical and aesthetic features that you want, so that the center of your home and family life is comfortable, useful, and beautiful.
One of the easiest ways to do this is to consider whether you want tile or wooden floors. While the choice will likely come down to your personal preference in the end, it's important to consider the factors that make each option unique. Since remodeling will redefine the space for years to come, it's crucial to investigate all the options and make the best decision for you.
Considerations for Tile Floors When Kitchen Remodeling in Chicago
One of the great benefits of tile flooring is the amount of durability that the tiles provide. They're incredibly strong and relatively easy to clean. Maintenance ranges from easy to moderately easy depending on the material of the tile. Likewise, cost efficiency varies.
Tile options
for your kitchen remodeling in Chicago include:
Natural stone tiles. These will likely be the most expensive options of all your tile flooring. However, the look is incredible and the strength provided from natural stone is almost unparalleled. It's a high-end look that's truly perfect for high-traffic areas such as the kitchen.
Porcelain tiles. Because of the manufacturing process, porcelain tiles are chip and crack resistant, making this one of the best options for kitchen remodeling in Chicago if your main priority is durability.
Ceramic tile. Add a look of luxury to your home with tile realism through ceramic tile. You'll enjoy the aesthetics of classic detailing, with the strength, durability, and easy care that comes with ceramic tile.
Kitchen Remodeling in Chicago with Wooden Floors
If you're looking for a more "earthy" or natural look, then wooden floors might be the best option for your kitchen remodeling project. A nice hardwood floor adds incredible value to any home, making it a wonderful investment right from the get-go. Furthermore, the ease of maintenance is relatively simple and when properly cared for, a high quality, professionally installed wooden floor can outlast carpet or vinyl. Hardwood flooring can be expensive, however, so be sure to get a quote and think about cost effectiveness before you commit to this option.
Are you considering a kitchen remodeling project? Do you need help with questions to ask when interviewing a potential kitchen designer?
Click here
or on the image below to download "Choosing a Kitchen Designer"