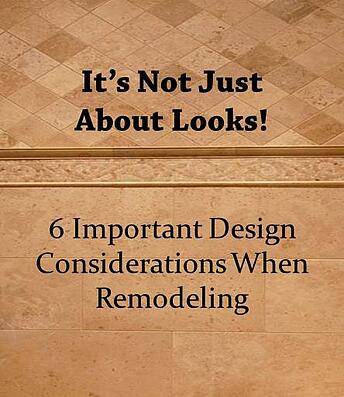 Kitchen and bath design ideas move through several phases during a remodel. While idea books and aesthetics are certainly important, there are fundamental aspects of the planning process that are instrumental in producing a kitchen or bathroom remodel that serves your household well for many years into the future.
6 Kitchen and Bath Design Ideas That Are More Important Than Looks
Discuss these kitchen and bath design ideas with your household, as well as your design and build team, well before any changes take place.
What works best for your space? Some ideas you have may be based on

home design websites

or magazines, they may or may not work with the structural reality of the kitchen or bathroom in question. Instead, analyze what ideas will work best with your kitchen or bath size and your need for space. This will result in a more personalized design that is tailored to the space you have, as well as your household's particular needs.


What are the limitations, if any, for the space. In some cases, you have the opportunity to demo a little here or expand a little over there. In other cases, that's not an option. Some of

your soffits may be able to be removed

, others may need to stay in place depending on the cost and labor required to remove them. Typically, it is your design and build team that will help you determine which things can or can't be changed structurally. There are even cases, especially when working in historic spaces, when nobody knows what the full limitations are until walls are opened up. This is a good example of why it's important to keep and open and flexible mind during the remodeling process.


Create an efficient workflow. Start paying attention to how you and your family members move and use the kitchen or bath. Making just a few simple changes can greatly enhance your overall layout and workflow.


Planning for ventilation. We're not surprised that "

adequate ventilation

" isn't top on most households' remodeling wish lists. However, this one "minor" detail has a huge impact on the way your new design will weather the years to come. Poor ventilation results in excess moisture. While you may not be able to see or feel the extra moisture levels, they will show up in various ways. These include mold and mildew infestation (often on interior surfaces that spread to visible surfaces after much damage has been done), musty smells, higher humidity levels and compromised indoor air quality.


Plan for adequate countertop and storage space. Plan for ample countertop and storage space. This is another area where your designer will be a huge help. We have the experience and know-how to utilize every square inch of your kitchen or bathroom spaces to your advantage.


Have a plan and then stick to it.

Create your budget

, make a plan and then stick with it. Taking detours here and there results in a hodge-podge kitchen or bath design that can run over budget due to change orders.
Ready to get started on your remodel? Schedule a consultation with the design team at Kitchens & Baths Unlimited by clicking the "Contact Us" button below or giving us a call at 84772-1212.