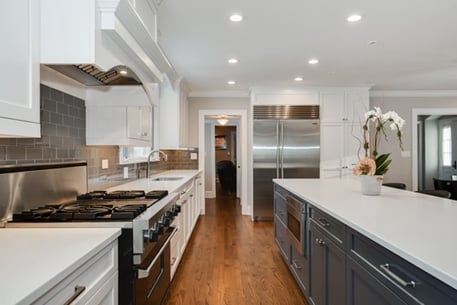 Quartz is one of the most popular countertop options for a reason. In addition to its durability and eco-friendly properties, quartz is stunning - and it requires virtually zero maintenance to keep it looking that way.
We've posted multiple articles about quartz over the years, and so it was high-time to take all that information and consolidate it into a single, "Ultimate Guide" format that puts the most important information about quartz at your fingertips.
It's important to note that quartz countertops continue to lead as the #1 countertop choice in consumer reports.
What is Quartz: Is It Any Good?
Quartz is one of the most prolific minerals found in layers of the earth's crust. Today, the majority of the quartz used to produce countertops is repurposed from the residual waste created by rock quarries and mineral mines. Manufacturers take that waste, sift through it for quartz flecks and crystals, and repurpose them into beautiful countertops.
Quartz crystals come in a wide range of colors and are extremely hard – two important features in countertop design. The particles are then mixed with resins, along with other pre- and post-consumer recycled products (glass, mirrors, silica, ceramics, etc.) to create countertops that range from the monochromatic to the bold and multi-colored.
It's important to note that quartz and quartzite are not the same thing. Click Here to read about the difference.
Because they are fabricated, quartz countertops aren't solid stone slabs, like granite is, and are not sheared out of the earth. Quartz is manufactured in a plant, due to specific design parameters, and then cut and shaped to meet the customer's desired outcome. This is why quartz countertops can come in rounded or U-shaped designs, able to fit just about any kitchen layout with minimal seams or visible joints.
What are My Design Options?
Quartz is a Chicago kitchen designer's dream for several reasons. First and foremost, the color options are endless. From quartz colors and patterns that mimic marble, to colorful and funky combinations that aren't found in natural stone, you will find what you're looking for.
Three quick facts about quartz countertop design versatility:
Colors and pattern designs that seem almost infinite
Consistent pattern and color variations
Molded shape and style options
With natural stone slabs, you are limited by geometry and the inherent weaknesses in the slab – along with the quality of the countertop installer. Fingers crossed your preferred granite slab covers the counter square footage you need, without multiple seams, and without chipping or cracking along the way. That is never a concern with quartz, so design options are more varied and definite.
Because quartz slabs are made in a mold, there are plenty of curved, angled, and shaped options to choose from. The color and pattern consistency also makes it easier to design an attractive backsplash if you opt not to continue the quartz up the wall
Arguably the Lowest-Maintenance Countertops Available
The resins used to bind the quartz and other elements together dry into a hard, non-porous surface. Quartz countertops are absolutely one of the most durable and low maintenance countertop options on the market.
There is no need for sealing
They rarely scratch, crack, break, or chip
There are no existing fissures or weaknesses that can emerge in natural stone products
There are no special cleaners required - you can spray and wipe (or scrub)
They don't stain via red wine, marinara, or moisture rings
If you're debating between quartz or granite, and you prefer a low-maintenance kitchen, visit, Maintenance Requirements for a Chicago Kitchen Design: Quartz or Granite for a comparison.
This low-maintenance perk is one of the reasons why quartz is considered the new granite in the kitchen and bath design world.
Looking for a Sustainable, Eco-Friendly Kitchen Countertop?
Another reason designers love quartz so much is its paired durability and sustainability, two tenets that are increasingly important to homeowners.
Granite is often touted as eco-friendly because of its longevity, and there is no denying that. However, it is a non-renewable slab that is removed from the earth via huge quarries using less than eco-friendly mining methods. As a result, quartz cannot be considered truly sustainable.
Because quartz is a byproduct of mines and is made with other pre- and post-consumer recycled materials, it is also considered more earth-friendly. Also, the United States is home to the world's most renowned quartz countertop manufacturers – such as Cambria and Caesarstone quartz – which also means more eco-friendly shipping/transportation.
The Pros and Cons of Quartz
There's no perfect countertop, right? Well, quartz is probably as close as it gets. In terms of aesthetics, design options, durability, longevity, and low-maintenance properties – quartz is at the top of the countertop option list.
The only con associated with quartz is its price. Quartz typically runs an average of 20% more expensive than granite. However, if you're attracted to more exotic granite, the price tag for your granite slab will be more expensive than quartz – so that "more expensive" con depends on your granite preferences. We have saved clients thousands of dollars by switching their sites from a rare or fragile granite slab to a durable quartz option they loved.
Also, the more expensive price tag is true at the outset, but not necessarily if you're evaluating the lifetime cost of your quartz. Since you don't need to reseal, and cracking/breaking isn't a risk, odds are you'll make up that difference via quartz's lower-maintenance attributes.
An Experienced, High-End Design/Build Team is Your Best Materials Guide
This Ultimate Guide to Quartz Countertops is a good place to start. However, scheduling a consultation with an experienced Chicago kitchen and bath design/build team is the way towards the most supportive and customized guidance you'll get.
Working with professionals, taking a look at your current bathroom design wish list, and discussing your lifestyle and kitchen habits is the most satisfying way to know you've made the right decision if you move forward with a quartz slab for your kitchen remodel.
The team at Kitchens & Baths Unlimited has decades of high-end, Chicago kitchen and bath design. Contact us and design the remodel you've always dreamed of, using the finishing materials that make the most sense for your household.