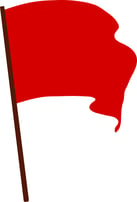 Hiring a Chicago home remodeling contractor can be a decision of a lifetime.
If you hire the right design-build firm, you'll remodel once and only once for the duration of your years in that home. The right company will facilitate selections features that are right for your taste but have timeless appeal. If you abide by the maintenance recommendations, the quality of your contractor's craftsmanship will shine, and installations will be durable enough to stand decades of wear-and-tear.
Read, Key Questions to Ask Before Starting a Major Project, for recommendations of questions to ask during consultations with prospective contractors.
Watch for Red Flags in the Search for a Chicago Home Remodeling Contractor
As they answer, the following warning signs should cause you to steer clear of the wrong crew for the job.
No valid contractor's license on record
Always perform due diligence when hiring a contractor. This includes things like verifying the contractor's license is current. You can check this with your local building department. Also verify the contractor is bonded and insured.
High pressure sales or demands for money
Never feel pressured to sign a contract or make a commitment. You need to feel completely comfortable with your decisions, and a good contractor wants to work with clients who trust their team to the job. Never work with a contractor who demands 100% of the money up front.
Answers seem vague
Experienced design-build teams know exactly what they're doing and have done it all. They're able to provide specific answers to all of your questions. If they can't, there will be a logical and succinct answer as to why not.
If answers seem vague or lack confidence, it's time to keep looking.
References seem slippery
We always recommend clients speak with references who've had a similar level of work performed by the contractor. This is your opportunity to ask some of the deeper questions about the company's professionalism, their ability to stick to budget and schedule, their work manners, etc.
If references are sparse or seem a little slippery (like maybe you're speaking to a brother-in-law, rather than an actual customer), it's not worth the risk.
There are no online reviews or testimonials
There's plenty of information online these days, including references and testimonials. Search your contractor online and see what others are saying about the company. A lack of reviews can be as risky as a host of bad reviews. It's a sign that either they haven't been in business very long, or the company didn't make enough of an impression to inspire others to spend time reviewing their work.
A lack of work samples
The average cost of a home remodel is roughly $52K. You don't want to spend that kind of money on a company without a tried-and-true work history. The contractor's portfolio should boast dozens of examples of their work - preferably with projects that reflect the style of work you're interested in. If they don't, it's a bad sign.
The home remodeling process can be trying enough without having to worry about whether or not your contractor is up to the task.

Schedule a consultation with Kitchens & Baths Unlimited. We've worked as one of Chicago's premier home remodeling contractors for three decades and counting. We'll also be happy to provide you with references for other reputable design-build firms in the area so you have your pick of the best.