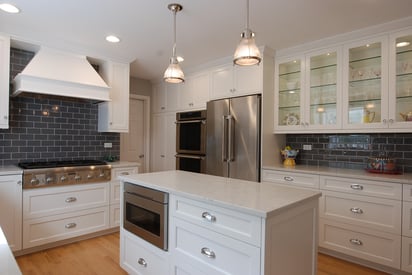 Custom cabinets are a notable investment in any kitchen design, but there's a reason for their extra cost. The combination of high-quality materials, expert craftsmanship, the ability to design them exactly how you want them…all add extra $$ to the total price tag.
Is the extra cost worth it? Are there occasions where a lesser-quality cabinet would be just as good?
Ultimately, these decisions are yours but here are some of the reasons we feel custom cabinets are the way to go if there's room in your Chicago kitchen design budget. Typically, we recommend custom cabinets when:
There's room in the budget for higher-quality fixtures and finishes
You're redesigning the kitchen layout or have a uniquely shaped kitchen
There are young children, busy chefs and/or a household that experiences heavy wear-and-tear in the kitchen
Read, When Do Custom Cabinets Make the Most Sense, for more information on why custom cabinets are – or aren't – the best choice for your lifestyle.
Custom Cabinets Cost More Because…
The following are some of the more significant reasons custom cabinets cost extra - and are worth every penny.
They're higher-quality
Custom cabinets are built from higher-quality wood and assembled by hand by experienced craftsmen. This is a far cry from stock cabinetry – often made from particle board and laminate. Every aspect of the cabinet – from screws and nails, to shelves, hinges, slide out drawers, drawer tracks – all are made from high-quality materials so they will last.
So, in addition to being top-quality, hardwood species that will last a lifetime, the time and labor spent building the cabinets is notable. Carpenters ensure every fit, every alignment, every joint, screw and hinge are installed perfectly. Then, the pieces are all brought onsite, where they're installed by professionals and given the stamp of approval by licensed contractors.
Typically, the turnaround time for stock cabinetry is about eight- to twelve weeks.
You have more options
When you choose stock cabinets, you find the best, pre-made version that suits your needs. When you have the luxury of choosing custom cabinets, you have a wealth of options available, including:
The type of wood, including more exotic species
The way the wood is cut or milled (rift, quarter or plain) for customized grain patterns
Innovative storage options, quiet closures and self-closing hinges, etc.
Precise shape and dimensions available for your unique kitchen layout
Specific heights or variations from the standard construction dimensions
Personalized work spaces for food prep, baking or small home office/homework stations
They're one of a kind
At the end of the build-out, Chicago kitchen designs implementing custom cabinetry have a one-of-a-kind finished product. From start to finish, the cabinets, drawers, open shelves, customized niches or work areas, peninsulas and kitchen island – are all built specifically for you and your kitchen, leaving you with cabinets that are uniquely yours. They are built to last and, if properly maintained, require less maintenance or repairs over time than lesser-quality options.
Review, What to Ask When Choosing Cabinets, for your Chicago kitchen remodel, and then schedule a consultation with us here at Kitchens & Baths Unlimited.