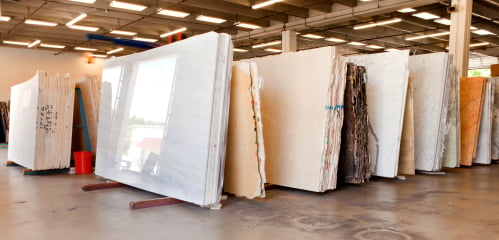 Natural stone continues to be one of the most popular choices for countertops. Typically, options are durable and relatively impervious to chipping, cracking and staining. However, there are exceptions. Most natural stones are porous or semi-porous, which means they are susceptible to all of the above if not cared for properly.
The Basics of Stone Countertop Maintenance
Stone countertop maintenance varies from product to product. You should always adhere to manufacturer's instructions regarding cleaning, sealing and maintaining your countertops and floor tiles. In the meantime, this post on stone countertop maintenance can provide the basics and allow you to evaluate which stone is the best choice for your kitchen or bathroom remodel, based on your lifestyle.
Let's start with the most popular and work our way down:
Granite. Still the most popular choice, granite is often given too much credit for durability and stain-resistance. It is still a porous stone and if it isn't sealed well and regularly messes or spills that go unnoticed can stain, and it can take a bit of work to get them out.
Granite should be wiped down after food preparation on a daily basis with warm water and mild soap or a mild general cleanser. It should be sealed annually to keep the pores from absorbing liquids and sediment that causes discoloration. If something spills, place some type of absorbent towel - paper is fine - on top to suck up the spill. Don't wipe it around as that can cause the stain to spread. Once the substance has been absorbed, clean the area with water and soap. Repeat if necessary.
If you notice stains and discolorations from unnoticed accidents, contact us and we can provide you with more specific instructions on how to remove the stains depending on their cause.
Marble. Care for marble is similar to granite with one exception; marble is much softer than granite so in addition to being susceptible to staining, it is also more prone to scratches, dings and etching. We don't recommend marble for kitchens that will have heavy wear and tear unless you are a baker who wants a marble section of countertop space for rolling and kneading your dough. Marble also has to be sealed and the cleaning and stain removal methods are identical to granite.
Soapstone. Here is a natural stone product that requires minimal maintenance. Soapstone is nonporous so will not stain. It is also completely heat resistant so you never need a hot pad. It naturally darkens to a deep dark gray/black with time. Rubbing mineral oil into the stone will speed up this process and help it to occur more evenly. No sealing or stain prevention is required.
Quartz. While not a natural stone product, quartz is eco-friendly and ultra-durable. It is attracting quite a bit of attention because it has a similar aesthetic appeal to granite, but is non-porous, never needs to be sealed and is virtually indestructible. Clean with soap and water or a non-abrasive cleanser to keep it sanitized.
Concrete. Man-made from natural stone aggregates, concrete countertops are sustainable and durable. However, they are definitely prone to staining. Concrete MUST be sealed on a regular basis to prevent stains from setting in. Acids can also etch the surface because they destroy the concrete glue. Make sure you choose a countertop-specific, food grade sealant for concrete.
If stone countertop maintenance feels intimidating to you, schedule an appointment with Kitchens & Baths Unlimited to discuss your options further. The key is to find the look and maintenance level that fits your family's lifestyle.