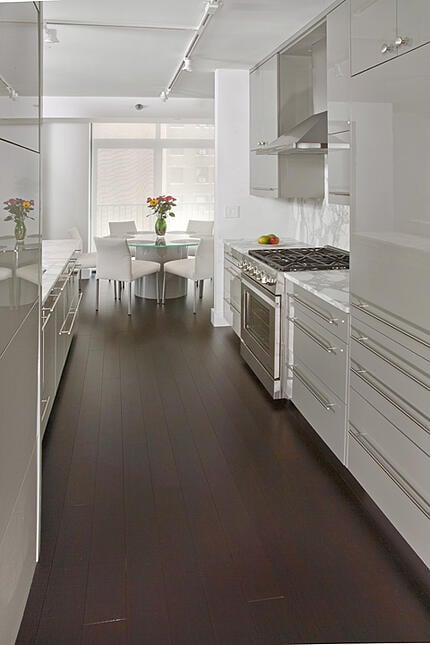 Here's the FAQ for the day: Should I consider removing my soffits?
Our answer is: Definitely, and maybe not!
If you can remove them then, by all means, get those puppies out of there. Having an unnecessary soffit is (and we're not being facetious here) like stacking a bunch of empty boxes in your living space and leaving them there for no reason. What a waste! Think of all the Chicago kitchen design ideas you could implement if only those empty boxes weren't there.
Always Eliminate Unnecessary Soffits When Remodeling a Chicago Kitchen
While we're at it, we also recommend having your design and build team take a look at the soffits in the bathroom when you're ready to remodel it because the same tenets apply. Removing soffits can do amazing things when it comes to making a kitchen feel roomier and more open. It will increase your cabinet square footage, which means more of your "stuff" can be tucked away out rather than exposed on countertops or shelves, contributing to clutter.
Soffits are designed to hide the more unsightly aspects of home construction, like the pipes, wires and ducts that migrate through your home. In a custom home, there is hardly ever a need for soffits because the contractors hide this hardware intentionally. In subdivisions, however, it's a different story. In order to keep the labor as easy (and affordable) as possible, contractors avoid having to shimmy around or maneuver in small spaces (like tiny attics or interior wall spaces) and use soffits instead.
In many cases, the "innards" of your home can be relocated legally and safely into more out-of-the-way spaces, allowing us to erase the soffits. When done right, these innards will still be convenient and accessible for service personnel when maintenance is required. That being said, there are cases where re-routing or re-configuring the innards isn't an option and/or isn't cost-effective. In these instances, we remove or shrink the soffits we can to gain as much space as possible.
Contact Kitchens & Baths Unlimited to schedule an on-site consultation to determine whether or not your kitchen or bathroom soffits can be eliminated or to glean a host of other great Chicago kitchen design ideas.