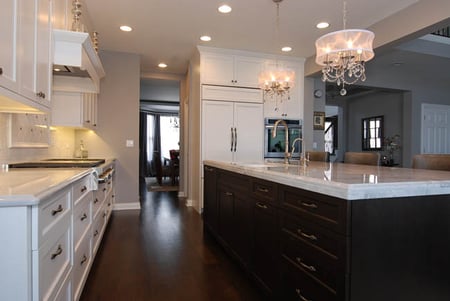 Early each year, the National Association of Home Builders (NAHB) hosts a mega-event, called the International Builders Show. Among other events and showcases taking place during the week is Design and Construction Week, which includes a "Concept Kitchen" designed and built by an applicant chosen by NAHB. This year's Concept Kitchen installation was created by Jonas Carnemark, CKD, CR, and owner of Bethesda, Md.-based companies Carnemark and Konst.
One of our favorite things about it was the company's attention to, what Carnemark has coined, Livability, taking the idea of "accessible" or "universal" design and making it more applicable and approachable for the modern household.
Consider "Livability" When Designing Your Next Chicago Kitchen Remodel
Without meaning to, the terms accessible and universal have wound up becoming synonymous with "old people" and "the disabled". Thus, we find clients often discount these wise design approaches unless they actually have a disabled member of the family or are have attained an age where "aging in place" is a more tangible concept. In fact, as Carnemark points out, the idea of accessible or universal design,"is really about 'livability', which I define as designing common sense into any space."
While custom-designed kitchen and bathroom layouts, versatile countertop heights and convenient cabinetry are a part of a "livable" design, so too are home media systems and the ability to charge and access gadgets while working in the kitchen or getting ready at your bathroom vanity in the morning. All of these features create a livable home design that accommodates your immediate family, extended family members in all generations and the even further network created by friends.
Ideas to keep in mind when designing a "livable" Chicago kitchen remodel include things like:
Plenty of maneuverable space. Tight corners are difficult for those with mobility aids to maneuver but they make it more cramped for able-bodied people as well. Make sure your kitchen layout incorporates plenty of space for movement and flow to keep your kitchen more accessible for all.
Varied countertop heights. Do your little ones like to help out in the kitchen? Is there an elderly family member that may use a wheelchair in the foreseeable future? Having countertop heights built at varying levels can make your kitchen more user-friendly for family and friends of all ages.
Home audio and video. Whether your child is using his tablet or laptop while finishing a homework assignment or you're watching a YouTube video demonstrating a new recipe and cooking techniques, the livable modern home is equipped with audio, video, and lighting systems that accommodate a media-oriented lifestyle.
Sustainable features and fixtures. Part of a home being livable means that it provides a healthier and more sustainable life for its inhabitants. Thus, a livable design will also incorporate energy-saving appliances, cabinets and paints with low-VOC content, and materials that are conscientiously manufactured.
At Kitchens & Baths Unlimited, we always make livability a focus. Schedule a design consultation to learn how your Chicago kitchen remodel can be simultaneously elegant, luxurious and livable.