How do the costs of custom cabinets vary from the price of stock cabinets? And is the price difference really worth it?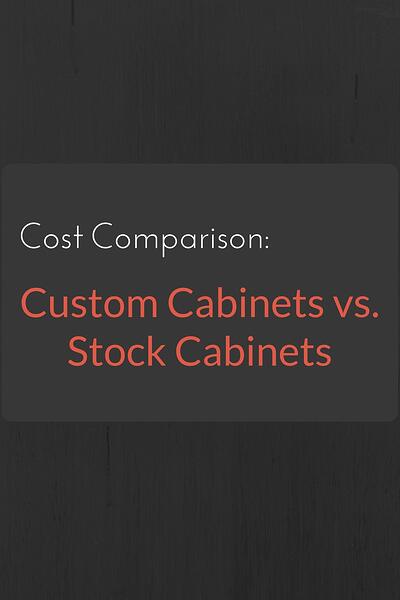 Here are two of the most commonly asked questions we get here at Kitchens and Baths Unlimited when our clients are starting to put their remodeling budget together. You won't be surprised to learn that in general, stock cabinets are the cheapest, semi-custom are the next rung up the price ladder and fully-custom cabinets are usually the most expensive. However, there are always exceptions, especially when you are budgeting between semi-custom and custom cabinetry.
There are cases where a cabinet design by a high-quality cabinet shop will be cheaper or comparable to semi-custom, depending on the line you are looking at. The size of your kitchen and your individual "bells and whistles" are often the determining factor.
For more information about the specific structural differences, advantages and disadvantages to the available options, read our blog, What's the Difference Between Custom, Semi-Custom and Stock Cabinetry?
What's the Cost Comparison of Custom Cabinets to Stock Cabinets?
Here is a little more information on the actual price differences, keeping in mind that these prices will differ according to your kitchen design, location, the cabinet builder you select, your specific design requests, etc.
Custom Cabinetry
These cabinets are typically made by a local cabinet building or design/build firm. The cabinet makers will build every single part from scratch, including the box, face frame, doors and drawers. The addition of cabinet pulls may or may not be included depending on your pricing contract. Typically there is a minimum of an eight-week lead time, so keep that in mind.
Pricing for Custom Cabinets is typically 25-30% more than semi-custom cabinetry.

Semi-Custom Cabinetry
With these cabinets, the boxes are available in more customizable sizes - to 1/8-inch increments, meaning fewer "fillers" are required and more personalized design features are available. Guests would never know they aren't custom. Semi-custom will usually require a six-week lead time.
Pricing for Semi-Custom Cabinets is typically 20% more than stock cabinetry.
Stock Cabinetry
Stock cabinets are generic in their design and are ready-to-order. As a result of the upswing in Chicago kitchen and bathroom remodels, there are more styles available than ever before, but the materials often consist of particle board, MDF and plywood. Higher-end stock cabinet manufacturers now offer solid wood options as well. Stock cabinets are built in 3-inch increments, which can lead to wasted space and fillers. A bonus is that they are ready on demand, without the need for lead times.
We always recommend getting a quote for all of your options. Often, the price difference between your dream kitchen desires and the most affordable semi-custom options is closer than you might imagine.
Contact Kitchens & Baths Unlimited to get a cabinet quote for your kitchen or bathroom remodel.