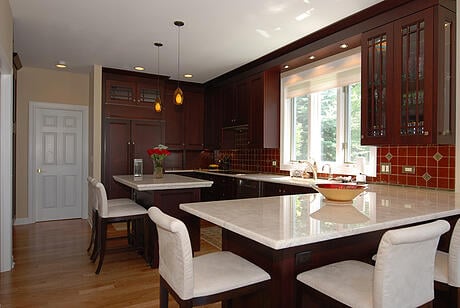 Would you rather live on an island, or a peninsula? Living on an island means you have complete autonomy and a space to call your own without any real attachment to the main land - unless you want it. Peninsulas provide the feeling of an island - their own, isolated space - while still remaining firmly anchored to civilization and all of her resources.
The same idea holds true for your Chicago kitchen design. A kitchen island provides a free-floating structure, with room for traffic flow on all sides. A peninsula remains anchored to the main kitchen body by a single wall, and is only accessible on three sides.
Which one is right for your kitchen remodel? Or could you use both...?
Chicago Kitchen Design Ideas: Island or Peninsula
As you brainstorm Chicago kitchen design ideas, don't automatically assume a kitchen island is the way to go. They are popular for obvious reasons, but that doesn't mean they're the best choice for every kitchen or every household.
You may want a kitchen island if:
Your kitchen has plenty of square footage
The island won't impede traffic flow
You have an open floor plan rather than a galley kitchen
You're looking for a way to incorporate extras (sink, freezer, oven, etc.)
Extra storage is a must-have
One of the primary requirements for an island is enough space. Keep in mind that to achieve comfortable kitchen flow, you want to have at least 36-inches between your countertop and the edge of the island. If you want to incorporate a seating area on one side of the island, you'll ideally want to add another 30 - 36-inches so traffic isn't impeded when someone is sitting down at the raised or extended bar.
You may prefer a peninsula if:
Your kitchen is on the smaller side
You would like to create a more significant boundary between the kitchen and the family/living area in an open floor plan
You want to minimize the structures in your kitchen but want to maximize seating areas
You would like to incorporate little extras, like a wine refrigerator, without impeding storage space
Your kitchen already boasts an island but you want even more counter space, storage options, overflow seating, etc.
You want to transform an L-shaped kitchen into a U-shaped version for better work flow.
A peninsula can be handy if you have a smaller kitchen space but want to enjoy the perks of extra seating at the counter or room to add additional amenities, like a long-coveted wine refrigerator. They also make a more solid divider between spaces in an open floor plan.
If you do choose a kitchen peninsula, resist the desire to add cabinetry on the space where the island connects to the wall. Instead, keep this free to optimize countertop and seating space, you will still have plenty of storage.
Bring your Chicago kitchen design ideas to Kitchens & Baths Unlimited and we can help you incorporate the ones that make the most sense for your space and lifestyle.