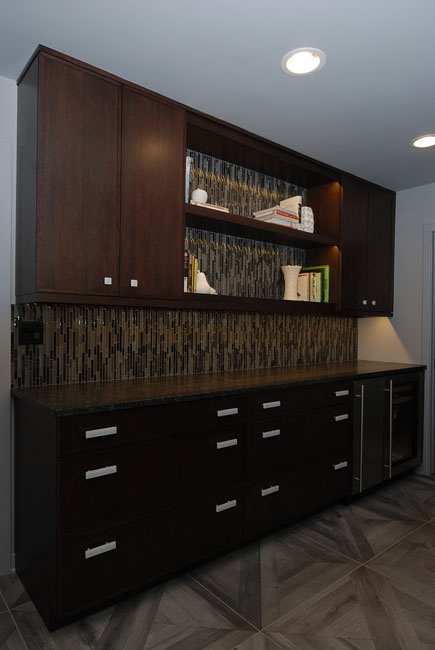 If you're working with a professional kitchen designer, odds are you are interested in semi- or fully-custom cabinetry. To read more about the differences in quality and price between these two popular cabinet choices, read What's the Difference Between Custom, Semi-Custom and Stock Cabinetry.
Custom cabinets, although the most expensive, are also the best-built and the highest quality. They are built to last, and should be able to withstand the wear-and-tear of a busy kitchen with only a modicum of care and maintenance.
You Probably Want Chicago Custom Cabinets If...
In most cases, clients select custom cabinets, or a combination of custom and semi-custom cabinets, depending on their kitchen's shape, design and their tastes.
You should consider Chicago custom cabinets if:
You have a larger budget. If money is less of an object for you, and your budget is somewhat flexible, it's worth it to spend the extra money on custom cabinets. Custom-built cabinets stand out because of their superb craftsmanship and their ability to be molded and shaped - literally - to your specific desires and dimensions.
Your kitchen has a unique floor plan. A home built in the last couple of decades will typically have more straightforward dimensions. However, here in the Chicagoland area, there are plenty of historic homes, subdivided homes and converted apartment buildings and condominiums that yield uniquely-shaped kitchen spaces.
These spaces may be accommodated by semi-custom cabinetry but, more often than not, custom cabinets will be the best option to enjoy cabinets and drawers that fit perfectly in your unique space.
You're creating a livable kitchen space. Livable kitchen designs are increasingly popular - making the kitchen a more functional and efficient space for people of all ages and abilities. When you design a livable kitchen for your family, there's a good chance some of the countertops, appliances, cabinets and food prep spaces will be outside normal, standard kitchen measurements.
You may have a taller family, in which case countertops should be higher. Maybe your little ones that like to help out in the kitchen, or someone in your family uses a wheelchair or likes to be seated when prepping food - in which case you'll want some of your cabinet and food prep surfaces to be shorter. Whatever the case, a livable or accessible kitchen design often require custom cabinetry in order to make it work for your family.
Your family is hard on cabinetry. Busy families often have the tightest budgets - but are also in greater need of the structural stability offered by custom cabinets. No matter how often you teach your kids not to slam cabinet doors, or not to climb on shelving to access the counter or upper-cabinets - they're going to do it anyway. The solid, high-quality materials and craftsmanship that go into Chicago custom cabinets will help preserve the stylish look you wanted - even if the cabinets take a bit of a beating.
Visit Kitchens & Baths Unlimited to see if custom kitchen cabinets are the best option for your kitchen design.