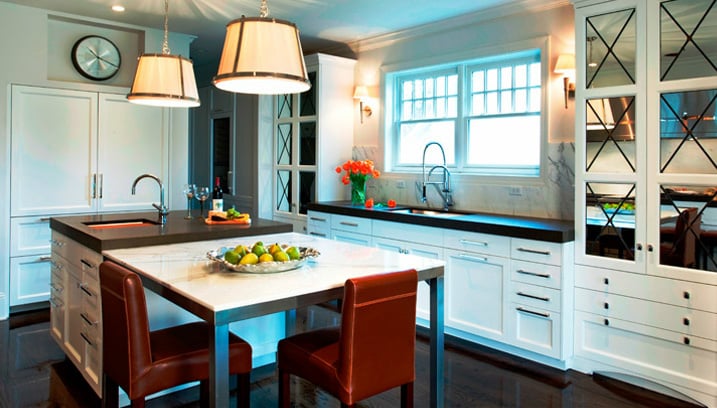 Designing a kitchen can feel like the proverbial peeling of an onion. You peel away one layer and there's another one there to greet you. In the case of design, it can seem as if each time you make a decision, that decision leads to two more questions...and it continues like that for some time.
Questions To Ask When Choosing Chicago Custom Cabinets
Cabinets are no exception. Even if you've chosen custom cabinets, there are still some questions to ask - or that the designer will ask you - before your cabinets can be completed.
Here are some of the most typical questions we hear from clients, or that we ask them if they aren't sure what they want at the outset of the kitchen design process.
What should I expect for the final price tag? Unfortunately, this is an impossible figure to give because cabinet prices are given in terms of linear feet. The total price depends on the size of your kitchen and other factors.


Why is there such a difference between the low- and high-end? The wood you select, the style you choose (framed, frameless, inset, etc.), stains, glazes, hardware, shelf/drawer materials, cabinet hardware - each of these selections affect the total price.


What are my options when it comes to cabinet types/styles? Typically, contemporary homeowners choose one of three options:
---Framed: This was the standard for all cabinets until relatively recently. It involves using a 1 1/2-inch "face frame," which resembles a flat picture frame when you open the cabinet door. In addition to adding dimension, the cabinet doors are attached to these frames, which adds durability

---Frameless: As minimal design influences have taken over, framed cabinets are being rapidly replaced by frameless cabinets. These cabinets eliminate the face frame and uses thicker cabinet box construction to provide stability. The doors are attached directly to the cabinet box but still close across the front of the cabinet box.

---Inset: With inset cabinets, the cabinet box still has a 1 1/2-inch face frame but doors are set flush with the frame, rather than resting on top. These are a callback to a more historic method of cabinet building and are experiencing a comeback for homeowners who want a unique or rustic look. Hinges can be hidden or exposed right on top of the doors/frame.


Should we use plywood or particle board? Most cabinet boxes are built with particle board, which is relatively sturdy - although prone to swelling when exposed to moisture. However, high-end cabinet makers have always preferred plywood because it's sturdier and offers higher-moisture resistance.


Melamine interior or wood veneer? This decision comes down to looks, maintenance and budget. Melamine is durable, easy-to-clean and affordable - but it is a thin, white, thermafoil layer and some homeowners don't like that look. Wood veneer is a more consistent look for wood cabinetry, but it's more expensive and prone to scratching.


Metal or wood drawer boxes? Typically, custom cabinet drawers are made from solid wood, and well-built wood boxes will last for centuries. However, cabinet hardware manufacturers, like Blum, now offer metal drawer options. While very durable, customers are limited to the particular sizes and dimensions offered - so this might inhibit overall cabinet design and/or other options. That being said, Blum offers fantastic drawer systems with innovative storage options, so you may decide to incorporate both, depending on the drawer's functions.

Interested in learning the ins-and-outs of cabinetry so you can make the best choice for your Chicago custom cabinets? Schedule a consultation with Kitchen & Baths Unlimited.