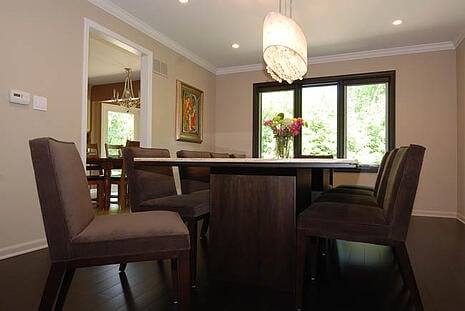 The American dream is oft acquainted with white picket fences. We feel the dream lies somewhere closer to the formal dining room. For decades, the formal dining rooms was a sign of luxury - and the images and feelings conjured by this iconic space is the stuff Norman Rockwell and annual Thanksgiving photos are made of.
Is it time to turn underused dining room into luxury kitchen space?
The problem is, formal dining space is typically underused. It's featured (at best) a handful of meals per year and the rest of the time it languishes all by its lonesome - or the table is piled high with kid projects, this year's tax forms, and other miscellaneous clutter. Perhaps it's time to re-think the formal dining room to determine whether you need it at all.
Something to keep in mind: even if you open up the kitchen to include dining room square footage, you can still design a beautiful dining area for family dinners and entertaining.
Open Up the Dining Room for Chicago Kitchen Remodeling
Here are tips to gain the extra kitchen square footage you're looking for to design the kitchen of your dreams.
Take down the walls. If you're ready to optimize kitchen function and eliminate the dining room, you can take down the walls and enjoy a completely open floor plan. With this one move, you now have a whole new set of options when it comes to kitchen layout. By taking cabinetry to the ceiling, adding a message center or small office space and optimizing cabinet storage, you'll reclaim the dining room storage and then some.
Remove walls & add cabinets. If you want to find an open space/dining room middle ground, remove the wall but add a new bank of cabinets in it's place. Use glass cabinet doors for the uppers and you'll gain light flow and a sense of continuity between both spaces without losing the dining room altogether.
Knock out some of the wall. In almost all cases, the formal dining room is adjacent to the kitchen. This means you can knock out a portion of the wall to open things up, even if you choose not to move forward with a completely open floor plan. This can range from expanding the doorway (often a bonus in galley kitchens to make them feel more open and spacious) to removing half the wall for more flow, keeping the other half to maintain the semblance of a separate dining area.
We'll admit; we love designing Chicago kitchen remodels when homeowners opt to remove or rethink the formal dining room space because it - literally - opens up the possibilities.
You'll have the chance to add things like double islands (one might become your family's new favorite place to gather for meals) or a convenient butler's pantry. You can design a casual breakfast nook or dine-in area on one side of the open space and still enjoy a beautiful formal dining area on the other.
Visit Kitchens & Baths Unlimited to start dreaming.