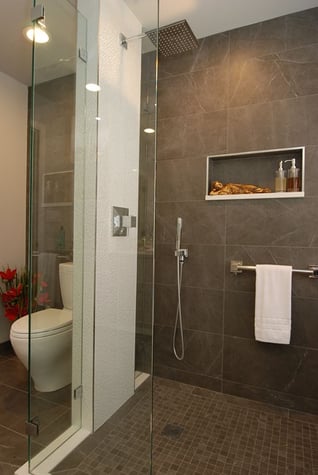 Including a doorless, walk-in shower in a Chicago bathroom remodel can be a blessing – or not – depending on personal preferences and/or how the bathroom is used.
While it's certainly an attractive - and trending! - feature, it's essential to consider all of the pros and cons before moving forward with its installation.
What is a Doorless Walk-In Shower?
First, let's review what a doorless shower is. Increasingly trendy, and a great way to show off stunning tile work, doorless showers are considered walk-in options because they lack the typical door track, frame or low wall you might step over in a standard shower. In some cases, they may have a very low curb.
As a result of no walls, or doors, walk-in showers rely on specially sloped floors to direct water into drains – protecting the the rest of the bathroom space. There are plenty of creative ways to design the shower walls, from pony walls or spirals, to protect the shower user's privacy, but there is no door –frameless or otherwise - regardless of the design.
Pros of a Doorless, Walk-In Shower Design
If you're interested in designing a walk-in shower, we also recommend reading, Why A Walk-in Shower, for more details. In the meantime, here are some of the pros of a walk-in shower:
A high-end, spa-like look
Doorless, walk-in showers are hot items right now because they provide that luxurious, spa-like aesthetic. One of the reasons for this is that you get to show off all that gorgeous tile you've invested in.
They're 100% accessible
Another benefit is that these showers are accessible, particularly if you skip a curb of anytime. That allows you to age-in-place and/or makes your home more appealing to future homebuyers interested in universal bathroom or home design.
They open up the space
There's no denying that "bigger is better," when it comes to home design in the United States. The idea of large, spacious rooms is appealing – even if a home has a smaller footprint.
If your bathroom is on the smaller side, a doorless, walk-in shower is a great way to get the luxury shower you're interested in, without sacrificing usable bathroom space.
Enjoy Shower + Tub
Along those same lines, switching from a traditional shower model, to the walk-in version, means the ability to enjoy both a shower and a tub in the same space. Again, if accessibility is a concern, we recommend looking into walk-in tub options.
Reasons a walk-in shower may not be for you
For all their aesthetic appeal, the walk-in shower trend may not be for you. Here are some of the cons associated with these designs:
More expensive than standard shower alternatives
Unlike more standard showers, these showers are all custom-designed due to drainage and moisture considerations. This makes them more expensive, so they may not be ideal if you're designing on a budget.
They can be chilly
While heated flooring will certainly help along these lines, no doors also means less insulation. So, some people find that the level of exposure leads to chillier-than-normal showers. It's the opposite concept of a steam shower.
Privacy depends on design
If your master bathroom is still full of kiddos running in and out, and shower privacy is a priority, this might not be the best option for you. Even clear glass showers steam up enough to provide a veil between prying eyes. But, depending on your bathroom size and layout, you may not be able to have a walk-in shower that delivers the privacy you prefer.
The design professionals here at Kitchens & Baths Unlimited are happy to assist you as you work your way through the pros and cons of a walk-in shower design. Contact us to schedule an appointment, give us a call at 847-729-1212, or stop by our showroom to learn more.