For decades, bathrooms have been built to very simple standards. Sterile white porcelain, fiberglass and silver chrome have been standard bathroom choices for years. Current bathroom remodeling trends are exploring relaxing room themes and designs, environmentally-friendly alternative materials, and comfort-oriented products with added functionality.
Here are some recent trends in bathroom remodeling that can turn your plain bathroom into a relaxing getaway.
Fixtures Focus On Comfort & Luxury Over Basic Function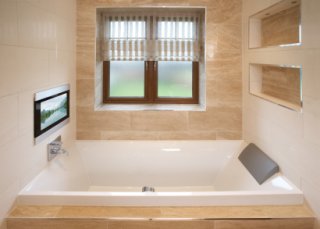 Sales and market research from past years have shown that consumers are moving towards more comfort-oriented "luxury" fixtures over basic functionality. Instead of simple towel bars, remodelers are installing towel warmer racks, for instance. Radiant floor heating is also a popular feature in more upscale redesigns.
High-Tech Digital Solutions Guarantee Comfort
Digital fixtures and new technology are bringing advanced luxury to new bathrooms, and will only become more affordable over time. Digital water temperature controls and shower heads will automatically adjust spray pressure and water temperature to preset preferences for multiple users, ensuring a perfect shower experience every time.
Tankless and hybrid always-hot water heaters are also a major part of new bathrooms, and provide constant hot water and use less water and energy overall. Displays and televisions are being built into mirrors and medicine cabinets, and even toilets are being equipped with new, innovative technology.
Eco-Friendly Means More than Just Recycled Materials
Using recycled or reclaimed materials in a remodel is a popular feature, but that isn't the only way your new bathroom can be green and economical. Advanced technology has improved energy and resource use in fixtures; and now showers, toilets, and sinks use less water to do more. Low-flow toilets use a fraction of the water traditional toilets use, and showerheads now increase pressure and decrease water use by feeding air into jet streams instead of more water.
Cabinets and Paint Inspire Relaxation
Recent trends have seen an increase in relaxing earth-tone color schemes and darker wood finishes for cabinets and trimmings. Custom cabinets built specifically for your new bath design can be specialized to fit all your needs, and can help you take full advantage of all of the space in your bathroom. Our expert designers can help you make valuable design choices, pick wood finishes and paint colors, and will assist you through the entire process to make sure you're happy with the results for years to come.