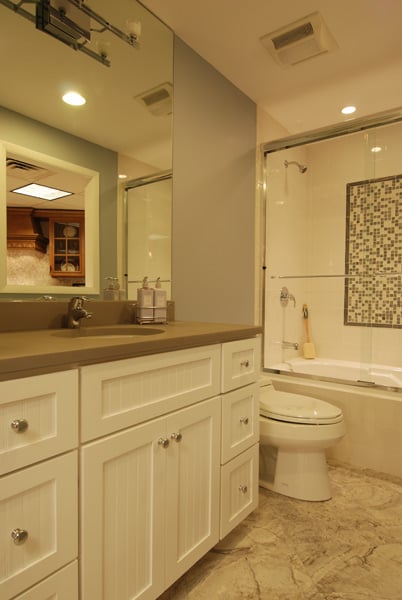 Bathroom exhaust fans are the most desirable bathroom feature in the United States, ranked Number 1 on the National Association of Home Builders 2013 Most Wanted List for bathroom remodeling priorities (by 90% of respondents!!).
And here you thought the priorities should be things like heated floors, tile work, and steam shower upgrades...
Make The Exhaust Fan in Your Chicago Bathroom Remodel Count
It's easy to poke fun at bathroom exhaust fan popularity stats, they demonstrate the acumen of America's homeowners. Bathroom exhaust fans do more than just remove undesirable odors and prevent bathroom mirrors from fogging up - they're essential for keeping moisture levels (aka humidity) at more livable numbers, which simultaneously enhances interior comfort and improves indoor air quality.
The problem is that many builders use short-cuts, and improperly vent bathroom exhaust fans, resulting in a direct negation of the fan's attributes and benefits.
Vent Bathroom Exhaust Fans Through the Roof
Want a quick way to select the quality Chicago Bathroom remodeling contractors from the short-cutters? Ask them this simple question:
How do you vent you clients' bathroom exhaust fans?
Their answer should always be:
Directly to the outside of their home, through the roof, via its own, designated duct.
That is the only way to guarantee the fan will work as it should. Unfortunately, in an effort to cut costs and labor time, many contractors will use quick-and-dirty tricks for exhausting bathroom fans. These include things like:
Venting into an attic, interior ceiling or wall spaces. Yikes! While this may move the bathroom smells elsewhere, and keep your bathroom space a little less moist, all it's doing is directing all that moisture into an even more confined space, where it can condense on interior spaces and insulation - creating the ideal habitat for mold and mildew to flourish. Very unhealthy - and that doesn't begin to address the structural rot that can take place as well.


Connecting to the plumbing waste stack vent. A very popular plumber's shortcut, you have real problems if that waste stack vent backs up - because guess where all those smells back into? Your bathroom and your home!


Connecting to additional fan ducts. Your kitchen hood and laundry room also have vent ducts, so wouldn't it make sense to just tie into those, so it can all get vented together. In theory, yes. In practice, the right conditions could cause the air from the bathroom(s) to emanate from your laundry or kitchen vents - definitely not ideal.
Instead, you want to work with a designer who will take the time and effort to do your Chicago Kitchen remodel right. This means selecting the right bathroom fan - and venting it properly - so it does the job it was designed to do.
Also, make sure the fan is sized correctly. If your bathroom is less than 100 square feet, the fan's CFM should be equal to the square footage. If the bathroom is larger, you should have designated fans for individual fixtures. Contact Kitchens & Baths Unlimited to learn more.