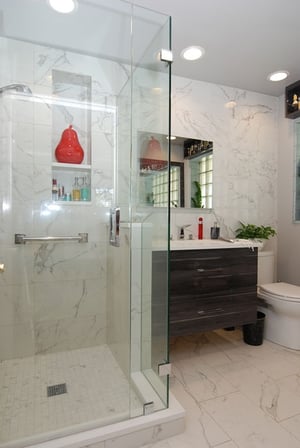 While luxury bathroom designs are always desirable, they aren't always possible, depending on the square footage of the prospective space. This is especially true for powder rooms or bathrooms in some of Chicagoland area's historic homes and townhouses.
Create a Small Chicago Bathroom Design With Big Style
Fortunately, the combination of design-savvy and innovative, space-saving solutions means your small bathroom will make-up in style what it lacks in floor space.
Here are ideas for small bathroom remodels that pack a powerful design punch. We also recommend checking out, Trending Half-Bath & Powder Room Ideas.
Tap into unused interior wall and/or ceiling spaces
Depending on the location of the bathroom, and potential structural issues, you may be able to break into interior wall and ceiling spaces. These alcoves and niches can add both visual space as well as storage opportunity. In terms of the ceiling, you may be able to gain several inches upwards, making the room feel less cramped, and affording the luxury of designing a coffered ceiling or other attractive feature.
Read our post, 7 Design Ideas for Higher Ceilings, and see if any of those ideas will work in your bathroom space.
Use a pedestal sink or floating vanity
Even large kitchens shrink up considerably when cabinetry hogs up all that floor space. Thus, we might suggest considering a pedestal sink or a floating or open vanity. These options create more air space, which tricks the brain into "thinking" the room is larger than it is. Even a pedestal sink with narrow cabinets and/or drawers on each side looks more spacious than a solid cabinet box.
Think vertical
Anything that draws the eye upwards enhances the idea of "taller," and that creates the illusion of extra space. If you use wallpaper, choose a pattern that moves vertically, or a beautiful print that leaves space at the bottom and increases in intensity as it moves up. Details around the juncture of wall and ceiling are also an option.
If you're going to use paint, an ombre effect can be a beautiful way to add colorful interest and the subtle shifts in color draw the eye towards the ceiling at the same time.
Open shelving
Open shelving is always a plus in smaller spaces. If you can get away with only using open shelving, great. Otherwise, use it to balance standard cabinet boxes and it will still improve the overall effect. If you have children or worry about the shelves looking messy, use attractive baskets to "hide" and/or organize shelf contents – baskets offer a smart way to add texture, too!
Again, recessing these shelves into the interior wall space can gain inches – or a foot – more space, which helps to store substantial items without pushing as far as a cabinet into the room's floor/air space.
Organize those cabinet contents
Are you opting to keep small cabinet boxes rather than replace them? Work with your bathroom designer to overhaul the interior of cabinets and drawer spaces. Innovative storage solutions for kitchens and baths offer item-specific placement and easier to access.
Think sleek (even if you're a traditionalist) and minimize accents
Even traditionalists can design a bathroom they love – but without all the accents and frills that take up space – literal and visual. Work to keep things clean and uncluttered to keep small bathroom spaces from looking cramped.
Having a hard time visualizing how to make your small bathroom space feel larger? Contact the Chicago kitchen design professionals here at Kitchens & Baths Unlimited. We'll pull every trick out of our bag and the results will take your breath away.