Wine enthusiasts across the world eventually hit a wall in their indulgent collectors' careers. Eventually, people start to run out of places to put the wines they love so much. As more people become wine collectors these days, options for wine storage such as wine cellars and other controlled storage solutions are becoming more commonplace, and more affordable as well.
Along with custom kitchens and bathrooms, we also specialize in other unique, challenging, and fun renovations, including wine cellars and controlled wine storage rooms. If you've ever considered a wine cellar or another means of keeping your wine fresher for longer, here are our tips on what you should consider.
First and Foremost: How Much Do You Plan on Collecting?
The amount of wine you want to collect is the number one determining factor for your wine storage needs. If you enjoy keeping a few bottles on hand and ready to drink within a month, you may only need a simple custom-designed wine rack in a dimly lit, cooler part of your home. Any walk-in closet or spare room on the north side of your house would do. If you plan on collecting and keeping a dozen or more bottles fresh for a longer amount of time, you should consider a wine refrigerator or a wine cooler appliance. These can stand on their own, or they can be incorporated into your cabinetry.
If you are a serious collector, or you're looking to grow your collection to accommodate dozens, or even hundreds of bottles of wine, a wine storage room or cellar is your best option. This requires a major conversion of existing space or construction and renovation of new space, but the results will add a spectacular, unique point of pride in your household.
Wine Cellars Are all about Atmosphere
Wine cellars require more than a corner of your basement or an enclosed room with air conditioning. Wines age gracefully when stored properly, and become more valuable—and delectable—as they mature. To ensure that your wine collection matures properly, you need to control the atmosphere of the cellar room.
Wine cellars are usually fitted with elaborate wooden racks and other custom cabinetry to house the bottles themselves, and preparation areas for opening, pouring and serving wines. Proper storage and regulation requires insulation and vapor barriers under the floors, walls and ceiling. Cooling systems may also be necessary in some wine storage rooms to maintain the recommended temperature of around 50°F, depending on the wines you store.
Other Less Intensive Storage Solutions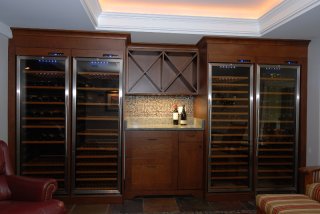 If you aren't ready to take the plunge into the wine collecting lifestyle and dedicate an entire area of your home to controlled storage, there are other alternatives that will help you keep wine available whenever you may need it.
Specialized refrigerators and wine coolers are available, and are typically the size of a miniature fridge or smaller. These appliances are completely self-contained, and they allow you to hold a few bottles of wine, or a few dozen depending on the size and storage capacity. Wine refrigerators can feature dual temperature zones for storing different kinds of wine, and they can be incorporated into custom cabinetry so that they hide away and blend with the rest of the room seamlessly.
The simplest solutions for wine storage absolutely do not detract from the character of a newly renovated kitchen or guest room. Our designers can build custom wine racks and wine cubbies within your custom cabinetry, for a unique storage solution that adds character to your new renovations. Our custom racks are made from beautiful, soft woods that hold bottles perfectly. An in-cabinet wine rack will become a valuable convenience, not to mention an instant centerpiece when you entertain guests.
Whether you just want to add a spark of old-world charm and personal flare to your new kitchen's custom cabinetry, or you're ready to go all-in and build a custom wine cellar, our Chicago custom designers can walk you through the entire process with ease.