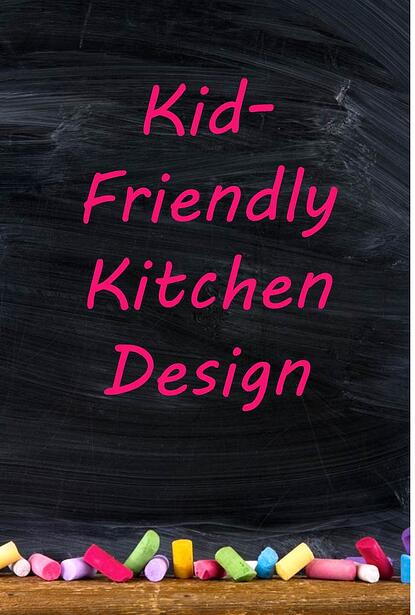 We continually emphasize the importance of function before aesthetics. That is certainly the case for families with children. Life will be infinitely easier if the kitchen can be safely and easily navigated by your children. The great news is that you never have to sacrifice looks in order to enjoy kid-friendly features in your Chicago North Shore Kitchen design.
Kid-Friendly Features to Consider for Your Chicago North Shore Kitchen Design
Here are some things we recommend discussing with your kitchen designer when you're building a kitchen the whole family can use while still remaining true to your stylish vision.
Inconspicuous child locks. There are several methods for child-proofing the cabinets you don't want your children to have easy-access into. Think about which cabinets will house the cleaners, breakable and/or sharp items and your kitchen designer can include inconspicuous locks to keep these areas child-free.


Wood floors. If you will have little ones around for any length of time - or if you're a grandparent fortunate enough to have grandkids over on a regular basis -

consider wood floors over stone floors

. Firstly, they make for a softer landing when children slip and fall. Secondly, they make a softer landing pad for breakables that children send to the floor.


Rounded corners on countertops. Kids aren't the only ones who will benefit from this small, but important, design detail. Round the edges on those granite or quartz countertops and protect vulnerable heads, cheeks and elbows from unnecessary injuries.


Wider walkways. Whenever you can, we encourage wider walkways. Children have a way of being right ahead, alongside or behind you (as do many pets!). Wider walkways will keep things more fluid when the whole family is in the space. They also come in handy when grandparents visit as they

allow more room for canes, walkers and/or wheelchairs

.


Lower-level microwave. Typically, microwaves are placed in upper cabinets, but in an era when

functional kitchen design has changed traditional cabinet layouts

, we recommend moving your microwave to the lower level and raising your oven. Kids can use the microwave more easily and you'll have a more ergonomically comfortable time loading heavier food items into the oven.


Add a kid-specific storage space. This can come in many forms. For some families - and where space permits - a

designated message center

is ideal. You can include a desk space where each child has a drawer, hooks for backpacks, file slots for schoolwork/communication from school, charging stations, etc. If this isn't an option, think of a cabinet and/or drawer that is easy for your kids to access and can be used store their stuff, like dishes, cups, lunch bags, water bottles, etc.


Include a hand-sprayer in the sink. Not only does dish time become more fun for kids, you will have a much easier time when major hand and arm cleanup is required.
Contact Kitchens & Baths Unlimited when you're ready to design a kid-friendly kitchen that still retains the adult-oriented style and gourmet features you've dreamed about.