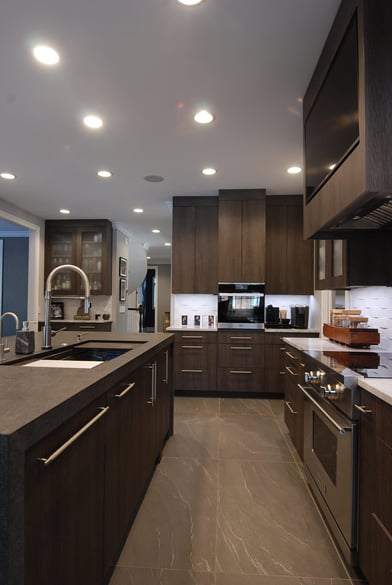 As professional Chicago kitchen and bath remodelers, we keep our fingers on the pulse of the latest home renovation statistics. As such, we thought we'd share some of the results from Houzz's annual Houzz & Home Study.
You may want to invest more into your upcoming remodel
The investment in kitchen designs and remodels jumped a whopping 27% this year, and we're not surprised. Sometimes, the effort to save money on a kitchen remodel backfires. In most cases, it's because – when all is said and done – homeowners wind up wishing they would have invested in the "full Monty" rather than a toned-down version of what they truly wanted.
If there's one thing you don't want to do after your kitchen remodel, it's sitting around a new, beautiful island, feeling regretful about the things you wished you'd installed after all.
We also expect this rise in remodeling costs is the result of continued emphasis on open concept floor plans. That trend has made kitchen spaces the natural extension of both the living room and the home office – requiring additional considerations in regards to overall flow, functionality, versatile seating options, and technology.
Baby Boomers and Gen Zers are the most likely to design a remodel
While this was the first year that Gen Zers (ages 18 to 24) made a dent in the remodel market (0.3%), Baby Boomers (ages 55 to 74) and Gen Zers (ages 40 – 54) comprise 81% of the home remodeling market - and each of these populations spend a median $15,000 per project.
If you're a Baby Boomer planning to age-in-place, we recommend reading all you can on how to design a livable and accessible home. We've written numerous posts on the topic, including:
In addition to helping you with your own goals, incorporating accessible design principles into your remodel makes your home more appealing in the resale market.
Tech & Security Features Are Hot Right Now
The technology sector abounds with gadgets, systems and features that enhance day-to-day living. From advancements in home security and home audio/video options to smart window treatments and technological innovations for both the kitchen and the bathroom, there's not a room in the house that doesn't benefit from tech solutions in one way or another.
We recommend reading, Incorporating Technology Into Your Chicago Kitchen Design, and, 5 High-Tech Gadgets For Your Bathroom Remodeling Project, to learn more.
Another reason why high-tech security systems are on the rise – those who live in regions with higher-living costs get increased bang for their buck by purchasing more affordable properties and then renovating them. The flip side is that these lower-cost options are often located near areas with higher crime rates.
Millennials Love to Decorate
While the Millennial crowd is still a bit young to invest in major kitchen renovations, they are still up for spending a median of $5,000 or so to update an outdated kitchen design. And, because transient or change-able accents and décor are cheaper than expensive remodels, Millennials are considered "avid decorators" once the necessary renovations are complete.
Are you interested in designing a kitchen, bathroom or basement remodel that respects your budget and lifestyle? Contact us here at Kitchens & Baths Unlimited to schedule a consultation.