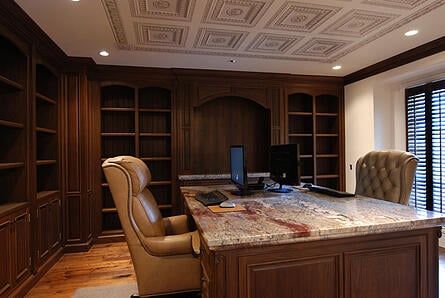 A while back we posted an article on Designing a Master Bathroom you Never Want to Leave. Sure, it's hard to top a relaxing soak in a oversized tub or meditating in an aromatherapy steam shower.
But what if we told you that a few savvy design tips would help you design a home office space you'd never want to leave?
Mix Business and Pleasure with a Smart Home Office Design
If you work from home, or spend lots of time in a home office, we recommend honoring yourself with a home office remodel. You deserve to work in a space that is attractive and functionally designed - and that gives you everything you need to work well - and relax well - throughout the day.
Home office remodeling bonus: Speak with your CPA or tax specialist - you may find that a certain portion of the project is tax deductible.
Adequate lighting
Before we get into soothing or professional color schemes, comfortable work stations and other home office design tenets, the lighting plan comes first.
The best lighting for a home office combines ample daylighting and then a combination of task and ambient lighting. If your home office is short on window space, consider installing skylights or solar tubes. Natural lighting is the healthiest lighting for your working eyes - warm or natural spectrum LED lights are a close second. Healthy lighting helps to improve mood, keep you more alert, minimizes headaches and eliminates eyestrain.
Think about how the space will be used
Your home office might be ample and spacious; it could have tall ceilings that allow for high bookcases and out-of-the-way storage; or, you could have a home office that is tucked in a quirky corner or angled wall space.
As you start to think about the design, we'll take a look at the characteristics of the office space and footprint, along with how you plan to use it. In many ways, office layouts mimic kitchen layouts - and should be designed accordingly. Like a kitchen design - evaluating how you use your office (and who else may use the space) helps us create a plan that optimizes storage, furniture placement and flow.
What's your dream design style?
Does your home's interior design reflect your preferred style or did you let your spouse get his/her way most of the time? Perhaps you both decided on more neutral or timeless design tenets for future resale value. In your home office, you have full control of the design, and that means you can do something completely different from the rest of your home if you want to.
If you're unclear about your personal design style and preferences, take this Interior Design Style Quiz from the Designer Society of America.
Make it ergonomic all the way
People are suffering as a result of their sedentary office life. From neck and shoulder issues, to chronic back pain, and medical conditions such as carpal tunnel syndrome - the office furniture and workstations you select are vital to your health and well-being.
When it's time to select your office furniture and computer placement - consult the Mayo Clinic's, Office Ergonomics Guide, and only choose chairs, furniture and computer accessories that align with these "health-first" protocols.
Choose soothing and restful color palettes and patterns
When you meet with clients, talk on the phone, or take an eye break from the screen, your eyes and brain deserve a break from screen glare and text. Work with your designer to select colors and patterns that are soothing and restful. These will also come into play if you have room to design a break station.
Don't forget about standing workstation options, which can be built permanently into your perimeter office furniture or can be placed on the desk to accommodate optional working positions and postures.
Is there room for a break station and comfortable resting spaces
Science tells us catnaps are great for increasing creativity and productivity. Taking breaks to stretch, perform calisthenics or to get a few yoga poses into the mix help to support physical well-being and reverse the effects of sitting and computer work.
We can build these spaces right into your office by ensuring there's room for:
A comfortable couch or futon
Cabinet to store small weights, your under-desk bicycle or yoga mats (and room to accommodate them in the space)
A water/coffee/tea/snack station so you have access to what you'll need through the day
An smart, automated A/V system
Gadget charging stations and other tech-relevant additions
The team at Kitchens & Baths Unlimited has designed numerous home office, entertainment rooms and converted basement spaces for homeowners around Chicagoland. Contact us to begin dreaming your ideal home office space.