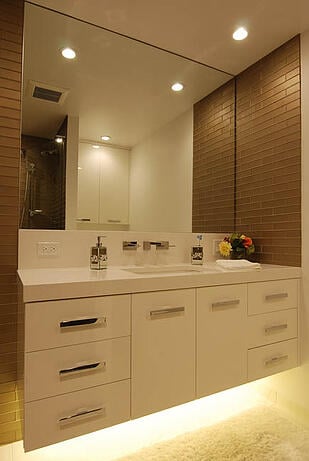 Under-cabinet lighting is a practical and beautiful addition to any Chicago bathroom remodel. In addition to improving bathroom safety and night-lighting, under-cabinet (or under-vanity) lights add a desirable ambiance.
Can I Add Lights Underneath My Wall-Mounted Vanity?
Originally, these lights were designed for standard bathroom vanities or built-in cabinets, where they are tucked out of sight underneath the toe kick. As the demand for wall-mounted vanities has increased, designers have had to get creative in order to provide lighting beneath these free-standing entities that remains "hidden" most of the time.
While you can certainly design your bathroom remodel with a wall-mounted vanity that includes lighting underneath, it may take a little bit of planning depending on the type of vanity you choose. The more stylized the vanity, the trickier under-vanity lighting may be.
Pros of wall-mounted vanities with lighting underneath
Some of the pros of installing lighting underneath your wall-mounted vanity include:
Nighttime and/or safety lighting
These lower-wattage lights (particularly with an added dimmer) provide safe, reliable nighttime lighting. This is great for kiddos or out-of-town guests using the hall bath and it also makes your master bathroom more accessible.
Enjoy a more romantic glow
Whether you enjoy your own peaceful moments in the soak tub or steam shower, or the two of you are planning a romantic evening, under-cabinet lighting adds a softer glow that enhances a bathroom's ambiance.
It enhances the existing design
An extra burst of well-designed light enhances any bathroom design. By day, we recommend optimizing natural sunlight but if that isn't possible, your under-vanity lighting will make a notable difference. Also, under-cabinet and under-vanity lighting continue to trend, so additions like these make your home more desirable to future home buyers.
Cons of installing lighting underneath a wall-mounted vanity
Open vanities are popular in all manner of bathroom design styles. These wall-mounted or free vanity options have a desirable floating effect, and can help a smaller bathroom so appear larger and more spacious. However they come in all different styles and formats, which could make it a bit trickier to install lighting underneath.
Your vanity may require special lighting needs
If you purchase a wall-mounted vanity that was designed with under-vanity lighting options, that's great. However, some of the more stylized versions, or custom vanity options, may not be designed with this type of lighting in mind. Depending on the style of the vanity, how it's mounted to the wall, your design preferences etc., the lighting design may require special, customized needs.
Design and/or installation may be more expensive
With that in mind, suffice it to say that supplying under-vanity lighting that works with your vanity may require increased design and/or installation costs – and this might increase your bathroom remodeling budget.
Make sure you are clear on the wattage and dimmable (or not) options for the lighting under the vanity. The last thing you want is to install expensive lights you never use because you don't like their glow. Choosing the right quality of light, at the right level of brightness, is key to your enjoyment of this luxury bathroom lighting option.
Are you in the process of selecting a wall-mounted vanity for your Chicago bathroom remodel? Look for models that include lighting options for a more streamlined remodeling process. Or, feel free to contact us here at Kitchens & Baths Unlimited, where we're always happy to create custom lighting design solutions for any wall-mounted vanity you choose.