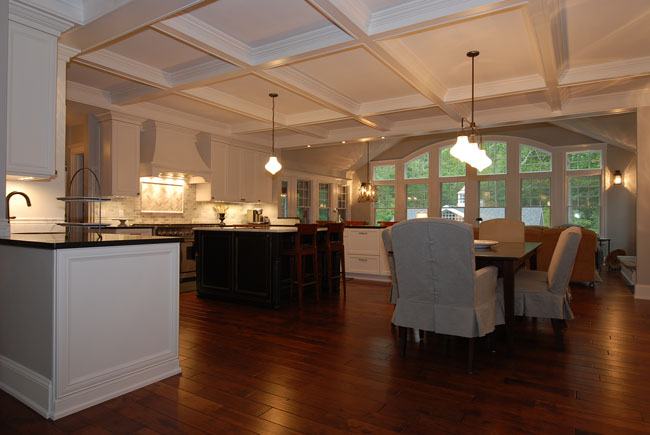 If you live in an older home, odds are your kitchen is a galley-style kitchen or has some type of wall that divides it from the main living area(s). A dividing wall can make a big difference in how your kitchen functions and feels.
When we meet with clients with closed-in kitchens, we provide at least one design option that includes removing or opening up a wall to add space and light. In most cases, this is the design plan our clients choose because the effects are so dramatic.
Removing Walls Can Enhance Your Chicago Kitchen Design
There are several benefits to getting rid of a wall, or at least opening the wall up, when designing a new kitchen.
Improve resale value. Open floor plans are popular and we don't see that trend going away any time soon. In fact, many homeowners are eliminating their formal dining rooms, taking down the walls in a space that is rarely used in order to open up and expand a room that is used every day. If you have a galley kitchen, or a kitchen that is walled off from an adjacent living or family room, most future buyers will consider that a strike against your home.
Make it a great room. Once you've opened the kitchen up to the adjacent living area(s), you have a great room. You'll find your home is more infused with light, because it isn't blocked by walls and dividers. Your kitchen design will naturally complement your living room design. You can also benefit from continuous flooring for a more streamlined look. All of a sudden, your family and guests will feel more connected because everyone is sharing the same space.
Be more social. That latter point is what makes an open, or great room, plan so great for entertaining. It's inevitable that guests at a party or dinner will end up congregating in the kitchen. If your kitchen is walled off, this can feel pretty cramped. Once your kitchen is open, there is more room for guests to spread out and feel connected to the kitchen without everyone having to be in the kitchen. The peninsula or raised counter bar that divides your kitchen from the living area will provide even more room for seating and socializing.
Keep an eye on the kids. If you have little ones, you are going to love the ability to keep an eye on them while you're prepping, cooking or cleaning up the meals. When your kids get older, you'll love the ability to have an eye (and an ear!) on your teenagers and their friends. Open floor plans foster connectivity for the family and that's always a great thing.
Worried that sacrificing a wall will mean sacrificing cabinet space? Don't be. Today's custom cabinet designs are so efficient, we'll make sure you have plenty of storage available.
Talk to the pros at Kitchens & Baths Unlimited to see what a difference removing a wall will make for your Chicago kitchen design.