Choose the Right Grout for Your Chicago Bathroom Remodeling Project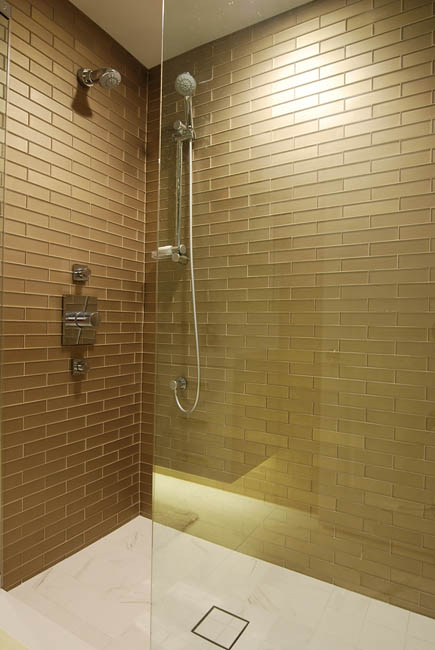 We've never had a client walk in the door and say, "We're ready to design our Chicago bathroom remodel and can't WAIT to look at those grout samples." Yet, grout is one of the most essential ingredients to a bathroom remodel because it helps to anchor tile, and (hopefully) it creates a cohesive visual connection between your tile choice(s) and the surrounding environment.
Answers to the following grout questions will help you select the right grout for your bathroom.
What type of grout do I need for my bathroom tile? And, does the shower grout need to be different? Firstly, you want to use sanded grout for all floors unless the tile install instructions specifiy otherwise. Sanded grout is more durable and lasts longer than unsanded so always use sanded if you can. You won't want to use sanded grout on tile that will scratch or if you need a really small grout line like a 1/16". It is a good idea to seal your grout in order to minimize damage from acids, moisture damage and staining.

A third option is epoxy grout, which used to be more common in high-volume kitchen applications due to its resistance to acid and other chemicals. However, it is being used more often in residential kitchens and bathrooms now because it's also waterproof. It costs a little more but the benefits are worth it. You can discuss your epoxy grout options with your designer as well. Keep in mind: natural stone tiles should be sealed BEFORE epoxy grout is applied or the chemicals in the grout can damage the tile.

How do I choose the right grout color? Typically, we recommend staying away from colors and, instead, opting for a neutral grout that blends with the entire bathroom design, like white, cream, tan, brown or gray. The reason for this is that colored grouts can look too stylized, can change depending on the light source (natural, incandescent, florescent, LED) and if you choose incorrectly, it ruins the entire effect and has to be redone. Also, keep in mind that grout darkens with time so in order to avoid the stained grout look, opt for a grout that is already along the darker side of your choice spectrum.

What are the standard grout thicknesses between tiles? There really is no standard. Grout width is determined by tile spacing, which is determined by the homeowner's and/or designer's preference. That said, the smallest "normal" grout line would be a 1/8", but you could do a 1/16" if the tile is cut perfectly or is a rectified tile. If the tile is handmade or a tile that has been slightly cut uneven you will need to do at least a 1/8" grout line. Smaller joints are typically more appealing but you have to be careful. Natural stones have natural edge variations and ultra-small joints will skew the tile pattern quickly if you don't use an expert tile layer.
All of these issues will be resolved when you work with an experienced Chicago bathroom remodeler who can steer you in the right direction. Schedule a consultation with Kitchens & Baths Unlimited for personal assistance.