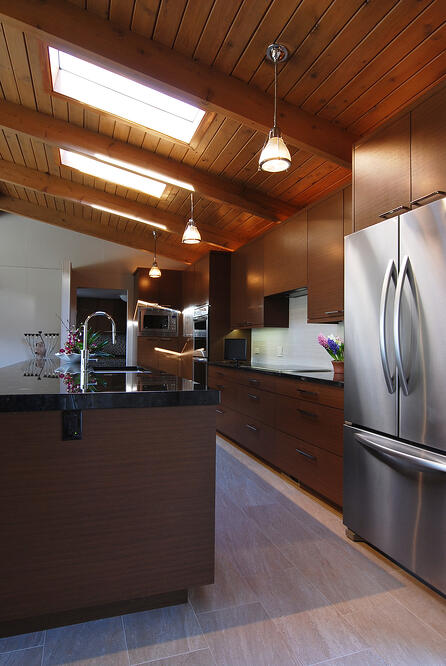 There is nothing that compares to natural lighting in the home. During daylight hours, it creates a feeling of airiness and spaciousness, even in smaller rooms. Once the sun has set, skylights and windows let in enough ambient light from the moon or your exterior landscaping to create a magical glow of its own. Then there are the energy efficient benefits since more natural light means less energy-dependent lighting is needed.
Alas, bathrooms often end up with minimal natural light due to their location in the house or in an effort to preserve privacy, and kitchens are often limited to a single window since perimeter wall space is typically consumed by cabinetry and appliances.
Ideas for Adding Natural Light to Your Chicago Bath or Kitchen Remodel
Fortunately, we have plenty of tricks up our sleeve to bring natural light into your Chicago bathroom and kitchen remodel while still maintaining the feeling of a privacy and without compromising functional wall space.
Skylights provide light from above. Skylights are undervalued as a natural light source. Perhaps they got a bad rap since original models tended to be leaky and had insulation issues. However, modern technology has changed this. Today's skylights are tightly sealed, offer better insulation and can be augmented with remote control shading and ventilation. These are optimal in the bathroom as they offer plenty of natural light and your privacy will only be compromised on the rare occasion somebody is up on the roof. You can even wire the space around skylights and install light fixtures for post-sunset lighting.
Another energy-efficient option is to install solar tubes, which act similarly to skylights but provide smaller and more concentrated cylinders of light. The light that enters the small cut-out in the roof is magnified by a reflective material that lines the tube.
Over-sized windows and/or glass doors. Does your kitchen have an exterior wall adjacent to your patio? Let's find a way to incorporate a French or sliding door that will make the most of daylighting while also creating a more indoor/outdoor feel. We can do the same from your bathroom, designing a spa-like retreat with access to a small patio. You can use bamboo or other tall landscaping features to create a living privacy barrier.
Elevating your windows is another way to increase your natural light potential without sacrificing privacy. That is what we did in this contemporary Northbrook, Chicago bathroom remodel, allowing the owners to enjoy darker wood and tile accents without creating a cave-like effect.
Glass blocks. Is your bathroom oriented toward the street or on a side of your house that faces the neighbor's kitchen? No need to give up on natural light; this is what glass blocks are for. The thick and textured glasses blurs the view from the outside while still allowing plenty of light to penetrate. Look how even a small section of glass block wall brightened up this Highland park bathroom renovation.
Are you feeling a little gloomy in your kitchen or bathroom?
Schedule a consultation with Kitchens & Baths Unlimited so we can find a way to use natural light and enhance the energy in your upcoming kitchen or bath remodel.