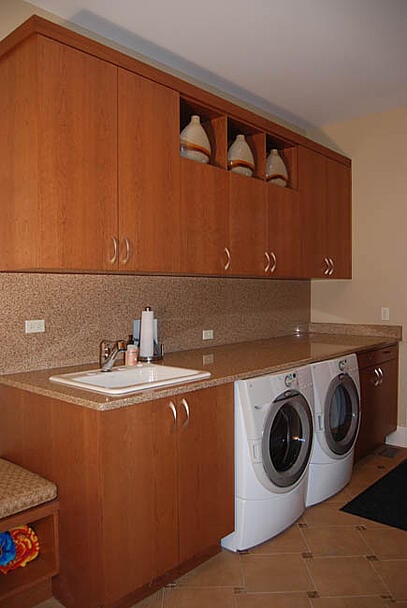 Thinking about a laundry room remodel? A well-designed laundry room is a gem. In many homes it's a sorting, laundering and folding station as well as a full-service mudroom. Taking the time to plan your space carefully makes the difference between a laundry room you will use for years or one that requires a re-do to get it right the second time around.
Here are 7 things to consider before starting your laundry room remodel.
What's your holistic vision? Sometimes clients can't see the forest for the trees since they live in the house on a day-to-day basis. Create your laundry room wish list, even if you think it won't work in your current space. Your design and build professional may find there's a way to incorporate everything you want, even if it means remodeling a different space.


Upstairs or down? Each level of the home brings its own share of considerations. If a washer/dryer are located upstairs, extra sound insulation and motion-arresting - to mitigate vibration - is in order and it may require additional venting solutions. Lower levels can make laundry piles more visible so cabinets or closets may be necessary.


Basic needs. Regardless of the size of the space, make sure you include accommodations for:

Appliances: They needs to be near utility hook ups. Consider their positions and how it will affect loading/unloading.
Storage. Allow room for storing your detergent, softeners, etc. This can include cabinets with doors, open cabinets, cubbies, shelving, etc.
Hampers/baskets: Do you have enough room to accommodate baskets or hampers? If possible, allow room for them to be tucked away under cabinets or work surface when not in use.
Work surface. Countertops are handy for applying stain remover, folding laundry, or laying items flat to dry.



Space savers. Tight on space? Invest in a front loader. In addition to being more efficient, you can add pedestals that provide valuable storage space. You can also add a countertop surface above, which adds to your work space.


Adequate ventilation. As long as you're planning a laundry room remodel, go the extra mile in terms of proper ventilation. Failure to do so can result in mold and mildew damage that is costly to repair. Additionally, poor ventilation in the laundry room can lead to compromised indoor air quality throughout your home.


The right sink. Traditionally, utility sinks are large, plastic, and easily stained. Instead, consider a stainless-steel sink, 12-inches deep, with a goose-neck faucet. It's stylish and versatile.


The right finishes. Finally, you want to use finishes that are durable, water-resistant, and can stand up to the continued presence of detergents and household chemicals.



Flooring: Think ceramic, porcelain or cork products as they are low maintence, water resistance and have a high durability factor.


Cabinets: Use light, bright colors or stains and a durable, moisture-resistant finish.


Countertops. Non-porous surfaces like Quartz, Corian or granite are your best bet and come in cheerful colors.
Ready to design a laundry room remodel that will be functional and attractive for years to come?