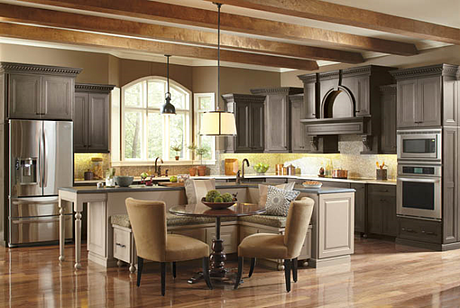 Have you ever noticed that older homes often have shorter counters than modern ones? Or that ceiling heights can vary according to the era a home was built? This is because the construction industry has "standards", and these standards change over time. If you are planning a kitchen design in Chicago, knowing the general construction standards will help you design a more functional kitchen layout.
If your family is taller or shorter than average, or someone uses a wheelchair, these construction dimensions can be customized to meet your needs. Here are a list of standard kitchen heights and dimensions. Think about them as you move about your kitchen and take note if you would prefer your counters, bars, or island to be built differently.
Standard Kitchen Heights for a Chicago Kitchen Design
Counters
There are typically three different types of counters used in the kitchen and each one has its own standard height:
Desk: Should you choose to incorporate a desk or message center in your kitchen, the desktop will be 30-inches, which accommodates a comfortable seating position.


Countertop. Most kitchen counters are built 36-inches from the ground. However, in many homes, especially where adults are taller, homeowners opt to elevate the counters for better ergonomics. Keep in mind that this may affect the home's appeal to future buyers, and could potentially hinder your ability to age-in-place. Counters built for accessibility are built to ADA standards, which are 34 to 34-1/2 inches.


Bar. Bars are usually 42-inches high.
Bars
Kitchen bars come in two heights.
Standing bar. These are bars that accommodate guests that are standing and chatting while you're prepping the food, and require tall bar stools. They measure 42 inches.


Breakfast bar. Breakfast bars are usually 36 inches from the ground and require slightly lower bar stools or counter height stools.
Kitchen Islands
A standard kitchen island will be the same height as countertops, which are 36-inches. However, If you attach a breakfast or standing bar, these elevated surfaces will range from 36- to 42-inches, depending on your preference.
If you incorporate a baking station, it is usually built slightly lower, ranging from 32- to 34-inches, to accommodate mixing, kneading and rolling dough.
Tables
Most kitchen tables are built for seating, which puts them at 30-inches. However, you can find counter-height tables, which are 36-inches high. These can be handy when you need additional food prep space.
Chairs
The standard height for kitchen and dining chairs is 18- to 19-inches. Bar stools come in two heights to accommodate both breakfast and standing bars. Lower bar stools and chairs are 27-inches and higher stools and chairs are 30-inches. These measurements are to the seat level, other features such as arms or backs will vary according to the design.
Bench seating
If you incorporate bench seating for a breakfast nook or nearby mudroom, the seat height is 18-inches.
Interested in a custom Chicago kitchen design? Contact the design professionals at Kitchens & Baths Unlimited, Inc.