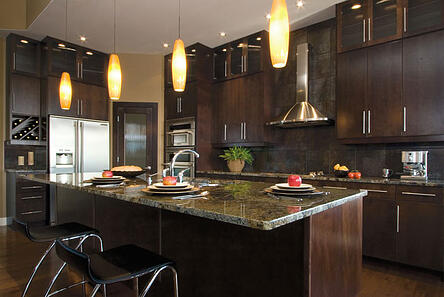 The L-Shaped kitchen is a functional kitchen, with all kinds of opportunities to provide customized food prep and storage spaces. It's a popular kitchen layout in this day and age because it works so well with the trend towards open floor plans.
Whether you have an L-shaped kitchen or are simply exploring a variety of layout options, the following Chicago kitchen design ideas can help you get the most out of it if this is the kitchen layout you choose.
Chicago Kitchen Design Ideas For the L-Shaped Kitchen
Scroll through the list below to determine which ideas will enhance your ability to work, live and play in an L-shaped kitchen.
Embrace the Work Triangle. Since the L-shape is comprised of two, perpendicular work spaces, it inherently creates the ideal work triangle. Thus, you have only to decide where you want each of your appliances to live. Of course, if you're going to install a kitchen island, you'll have even more flexibility.
Island or No? If you have the room for it, building a kitchen island is a smart choice. You can use the island to house your oven and stovetop or the kitchen sink and dishwasher. Or, you can do none of the above and simply enjoy the extra food prep space and storage. If the island is used primarily for storage, take advantage of customized storage options to eliminate wasted space.
Think About Accessibility. If you have little ones who like to help in the kitchen and/or you plan to age in place, consider accessibility when planning appliance layout and countertop heights. You may want to ensure a section of perimeter or island countertop that is lower than the rest. L-Shapes work very well for accessible designs because there is plenty of room to move around, especially for those using mobility aids.
Integrate Open Shelving. Your cabinet selection is an important one. Since cabinets comprise so much wall space, the style you choose can be the driving force as to whether your kitchen appears modern or traditional. In an L-shaped kitchen, the cabinets comprise two continuous walls - rather than opposite walls - so open shelving can help to break up the monotony. It also offers a chance to add a bit of color or pattern, depending on what you store there.
Take Cabinets to the Ceiling. Similarly, with only two walls available for cabinetry, L-shape kitchen designs can translate to a storage shortage since appliances comprise a significant amount of that space too. If you have a smaller kitchen and/or don't have the ability to add an island, this reduction in storage space can be downright daunting. One solution? Take your cabinets all the way up to the ceiling so you gain every last bit of storage space. Read, Kitchen Storage Options When You Don't Have Many Wall Cabinets for more ideas for L-shaped kitchen layouts.
Would you like a fresh take on Chicago kitchen design ideas? Schedule a consultation with the dedicated design team at Kitchens & Baths Unlimited.