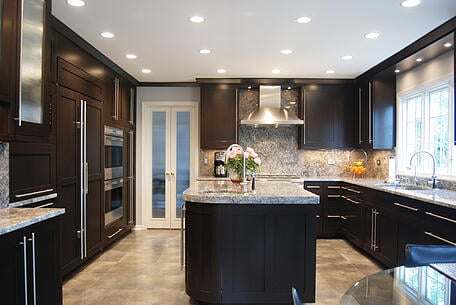 The U-shaped kitchen is one of the most functional kitchen designs around. In a smaller space, you are never more than a step or two away from all of your appliances and key storage areas. In larger kitchens, you can also include an island, which will add to your food prep surfaces and storage abilities.
Tips For Optimizing a U-Shaped Chicago Kitchen Design
Of course, layout and design are key to improving the efficiency of your kitchen, so we've put together a few tips or things to consider if you have - or are planning to have - a U-shaped Chicago kitchen design.
Bust out a wall. If you have an older home, your U-shaped kitchen may be in a room of its own, cut off from other living areas by individual doorways. If possible, look into knocking out a wall - or a section of a wall. You will gain a more open floor plan and can install peninsulas, which include storage cabinets, extra counter space and additional raised seating options.


Where to put the fridge? We recommend deciding where the fridge will live fairly early on. Refrigerators take up quite a bit of space, which can impede the U-Shape's function, especially in older, smaller kitchen footprints. If you can, place the refrigerator on the adjacent wall. It will still be well within the classic kitchen work triangle, but will not cramp your style or steal valuable countertop surface area.


Design a slightly wider kitchen island. If you have the room to add a kitchen island, it will come in handy. The problem is that, if space is a premium, adding seating along the side of the island can seriously disrupt kitchen flow when those seats are occupied. An alternative is to widen the kitchen island a bit so you have room for two bar stools or chairs at the island's end. Choose the end that makes the most sense for how the cook(s) will be using the kitchen when guests are comfortably seated.


Placement of the oven/stovetop. If your sink has to go in the bottom of the U, your oven/stovetop will have to be located on either of the arms. If you have a little flexibility, we recommend placing the stove and sink opposite one another. Not only does this work with the whole triangle idea, it allows you to keep the dishwasher right next to the sink, which can be a little trickier if the sink is in the bottom of a more narrow U-shaped layout.


Be cabinet frugal. If you aren't careful, you can wind up with so many cabinets that it feels uncomfortably busy and cramped. With today's innovative storage solutions, odds are you can minimize the number of upper-cabinets you install, taking advantage of extra wall space to incorporate windows for more natural light and/or open shelving options.
Working with an experienced kitchen design-build team is essential when optimizing your Chicago kitchen design layout. Contact the team at Kitchens & Baths Unlimited to learn more.