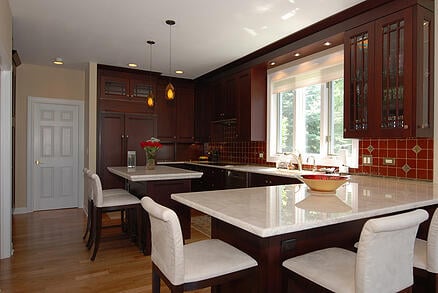 When it gets right down to it, marble has been a popular countertop choice for thousands of years. In fact, marble's popularity never falters, although trends have shifted in regards to where it is installed.
Marble: A Chicago Kitchen Remodel Favorite
KBU has installed many a marble countertop in our clients' Chicago kitchen remodels, but we have always done so with a word of caution to the homeowners. While marble is unarguably lovely, it is a softer and more porous stone. This makes it more vulnerable to scratches, etching and stains. Marble can also suffer from divets and dents if a hard, heavy object falls on it from an uppercabinet height.
Now, however, we have a new weapon to battle marble threats: Stoneguard Film. This product is a newer one on the market and, while it doesn't make marble any harder, the film (or shield) does an impressive job protecting marble from etching and staining. Stoneguard Film also contains heat-resistant technology.
Pros of a Marble Countertop
The pros of marble countertop are many.
A classic look. Marble exudes a classic, upscale aesthetic that has been revered for millennia. While some unique or more dramatic patterns do occur, most marble has a more subtle patterns, with subtle grey or soft brown "marbling" or striations that add color and interest.
Plenty of variation. Marble typically comes in white and gray tones, but it's also available in other hues, including solid black or marbling with greens, blue-grays, brown and rose hues.
It's soft. Marble is soft to the touch. Yes, it's a cool stone - just like granite - but there is something more velvety in the way it feels, compared with granite or quartz, which have a harder feel. Marble also has a softer look since marble patterns aren't typically as bold or dramatic as other natural stones.
Chef-friendly. Marble is a chef-friendly surface. It's heat resistant and bakers can roll their dough right on it, which is why it's often used as an "accessory" surface even if something harder, and more durable is selected for the bulk of the countertop layout.
Cons of a Marble Countertop
For the most part, marble's cons revolve around the challenge of preserving it's pristine appearance in in a busy kitchen environment.
The cons include:
Cost. Marble is a luxury option, so it has a luxury price tag. Typically, marble countertops range from $70 to $100 per square foot.
Warranty Limits. Because the kitchen is a higher-impact location, some manufacturer's and installers offer more limited- or zero-warranty perks for kitchen installations. However, innovations such as Stoneguard Film may change that.
Prone to damage. As we mentioned above, marble is a soft, porous stone. It's notorious for staining, etching, and scratching. For this reason, kitchens that endure heavy wear-and-tear may find that a more hard and durable option, like Quartz, is better suited for the countertops.
Are you drawn to marble's "Pros," but worried the "Cons" will make it a poor choice for your Chicago kitchen remodel?