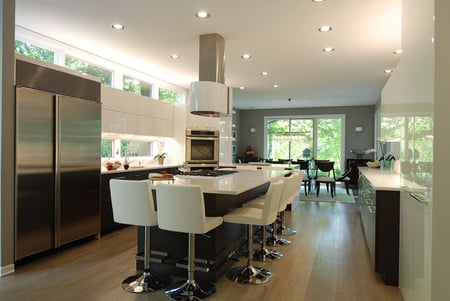 Is your kitchen feeling cramped? Are you ready to bust out an exterior wall to add another 100 square feet or so? Not so fast, there! Full additions aren't cheap and they aren't always possible depending on zoning regulations or HOA guidelines.
You may find that inadequate space isn't the problem - it's the overall design.
Gain Square Footage By Redesigning Layout, Storage and Flow
If square footage is a concern, your first stop is a consultation with a full-service kitchen design and build firm. This will prevent you from making a mountain out of a mole-hill, or wasting hundreds (or thousands) of dollars on new architectural plans that simply aren't necessary.
During your consultation, a Chicago kitchen design professional will come to your home and assess the situation. More often than not, we find that a little change in the layout, storage and/or the flow of the kitchen is enough to make the kitchen feel more spacious.
Redesigning the layout
Layout is, really, everything when it comes to the design of your kitchen. One misappropriated peninsula, an island that is shifted in the wrong direction or a refrigerator door that opens in an inconvenient spot can mess things up.
When you meet with your kitchen design team, you will review the gamut of different layout options. And, since design pros are well-versed at figuring out the most efficient layout per shape/size of a kitchen, rest assured you'll find the best one.
Reconsider the storage options
Efficient storage is one of the top priorities once the kitchen layout is established. Yesterday's cabinets were the exact opposite of efficient; they consist of cabinet boxes with pre-fabricated interior holes at standard heights for "adjustable" shelves. This makes for a whole lot of cavernous space - much of which is unusable.
Contemporary kitchen cabinets are the exact opposite of that. Your designer will ask you to describe who uses your kitchen, what they use most, and will perform an inventory of the kitchenware. You may find that 10% or 20% of the cabinet contents can be donated because it's never used - further freeing up space.
After the analysis, cabinet storage will be custom-designed specifically to your needs, including pull-out pantries, organized spice racks, counter appliance-specific storage and so on. Even something as simple as removing the soffits and taking cabinetry to the ceiling will allow you to eliminate a cabinet box or two, opening up your kitchen.
Creating a more graceful flow
The idea is to make your kitchen experience like a well-choreographed dance - fluid, graceful and unencumbered. These days, we've noticed that the traditional kitchen triangle doesn't always make sense, so we modify that to accommodate the activities and rhythms that are most prevalent in your kitchen.We do this by learning more about who does what and when in the kitchen, and planning feature and appliance placement accordingly.
Don't bust through the exterior walls just yet! Save those thousands for your Chicago kitchen design budget. Contact Kitchens & Baths Unlimited to schedule your consultation.