If you're doing a new kitchen design, you have options: lots of them. One of the biggest decisions – literally – is designing your kitchen's layout. Nearly all of the kitchen designs we've been working on in the last few years have an island. Some kitchens even have two.
We're big fans of the dual island kitchen design for four main reasons. Check out our four reasons, and you might become a fan, too…
#1 More Work Space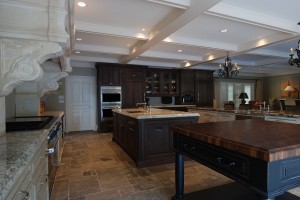 This is the most obvious reason for having two islands. If you're cooking big meals or have a lot of helpers in the kitchen, then more workspace is always a good thing. Islands make for great workspaces because it's easy for two people to be involved in working on the same dish. Imagine doubling the possibilities with two islands.
#2 Traffic Flow
In addition to providing space, islands take away space, which can actually be a benefit, in our opinion. As natural barriers, islands help direct traffic flow in your kitchen. If your kitchen is situated between an outside door and a dining area or other frequently used areas of the house, then you're probably used to kids running by as you're trying to chop vegetables or wash dishes. A kitchen design with an island, or two, can help separate work areas from foot traffic without closing off space entirely.
#3 Entertaining/Catering
Customers who frequently entertain or cater are always coming back to tell us how much they love having multiple islands as a part of their kitchen design. Even if caterers prepare food off-site, they still need a lot of space to set up their food equipment. If you like to entertain, then caters will thank you for incorporating more than one island into your kitchen design!
#4 Buffet Possibilities
One island provides enough room for workspace. But when you have two islands, you now have enough room to work and set up a buffet! Creating a kitchen design with an island situated between the cooking area and the dining area makes it easy to have a comfortable and inviting buffet in your home.
Have you seen any multi-island kitchen designs that you like? Let us know if we can help design your next kitchen with two islands.