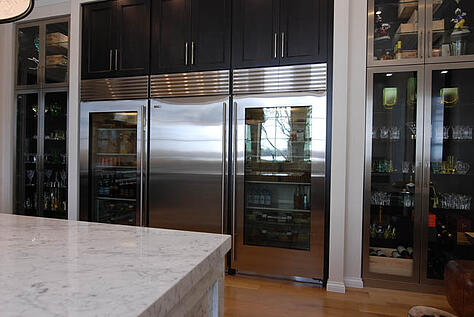 It's a brand new year and that means it's time for a trend update. Here are some of the Chicago kitchen design trends we're noticing at trade shows and from our favorite vendors and designers.
9 Chicago Kitchen Design Trends for You to Ponder
Glass cabinet inserts. Glass

cabinet inserts

are popping out (or, should we say, "in") everywhere. They serve a variety of functions. Aesthetically, they break up the monotony of a wall of cabinets. They can also add a bit of color depending on what you store inside. Use them to transition a stainless steel hood or appliance to your wood or painted cabinets, or use decorative glass to add a little style of its own.


Efficiency. Energy efficiency is here to stay so ask about the efficient alternatives that will help conserve water and electricity.


Floor to ceiling cabinetry. In most cases, we're taking cabinets to the ceiling. It eliminates that wasted, dust-collecting shelf between a cabinet top and the ceiling. Plus, it increases your storage potential, especially when you

pay careful attention to how your cabinets are designed

.


Two-tone kitchens. We are often asked, "Is it okay if our cabinets are different colors? Not only is it okay, two-toned kitchens are becoming the norm. You can choose different finishes for the uppers and lowers or switch the finishes between the perimeter cabinets and the island. This technique can help to transition different colors and textures or to keep your kitchen from being too light or too dark.


Furniture style design for cabinets. Wood trim, moulding, cornices and other features are being used to make cabinet design more like furniture styles. This options is especially popular in traditional kitchens and for

building a beautiful built-in hutch or message center

.


Built-in appliances. Up the appliance ante in your kitchen by adding deluxe built-ins like,

a beautiful wine cabinet

(see #5 above) or gourmet espresso or coffee bar. Make these extras an integrated part of your kitchen design.


Stainless steel or chrome fronts on cabinets. The easy maintenance and

contemporary look of stainless steel

appliances has spread to cabinet faces. Take advantage of #1 and #7 by selecting stainless steel cabinet frames with glass inserts. It's a great idea for smaller or darker kitchens because it creates a more spacious feel. You can also use stainless steel cabinet fronts to add accents, transition finishes or as the sole cabinet option for a modern kitchen design.


Embellish the ceilings. In eras past, decorative ceilings were the norm. Then, the ceiling became a pretty blank slate. Now, ceilings are in the spotlight again. Add space and visual interest by eliminating soffits and adding coffered ceilings.


Emphasize the lighting. Now that kitchens are more than just a utilitarian space, they require

a variety of lighting options

. Consider both task and ambient lighting options. This includes recessed cans for food prep, dimmable lighting, undercabinet lights for night lighting and beautiful pendants or suspended fixtures that add illumination and style appeal.
Make an appointment with Kitchens & Baths Unlimited and we'll help you select the 2015 Chicago kitchen design trends that will enhance your upcoming remodel.