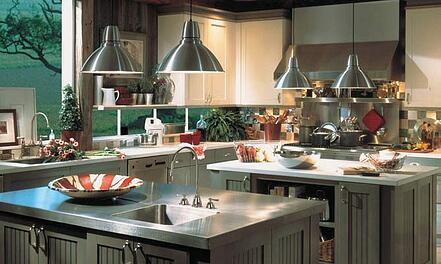 Think that cabinet handles and drawer pulls are the only place for metallic accents? Think again. A contemporary Chicago kitchen design can have metal accents everywhere from the countertops and appliances to the backsplash and metal-framed glass inserts for the cabinet doors. And it's not just stainless steel either - think copper, zinc, and colorful recycled aluminum.
The following are ideas on how to use metal accents to spice up your kitchen design.
The Backsplash. Metallic backsplashes are not only attractive, they are also easy to clean. They work well with natural stone countertop selections as well as metal countertops (more on that later). Recycled aluminum makes a wonderful tile backsplash or can be used in a single sheet, ranging in color from opaque whites and grays to vivid blue, depending on the resins used. The tiles can also be found pressed with beautiful patterns. Other metal backsplash options include stainless steel or hammered tin.
Backsplash inserts. If you prefer a traditional tile backsplash but like the idea of metallic accents, consider using a metal tile here and there to add a little shine and pizzazz to your backsplash. Many natural stone countertop options have a hint of metallic sparkle so metallic backsplash inserts will help to make those pop.
Metal cabinet inserts. Instead of matching your cabinet inserts with the door frames, opt for metallic inserts. You can choose your metal and it can be as simple or ornate as you want. Thin metal sheets are easy to punch so they are available in a wide range of patterns and designs. They work for any kitchen design from traditional country to ultra-modern. If you prefer to use metal as an accent, talk to your kitchen designer about using metallic frames for glass cabinet doors. Metal products are found in a range of colors and patterns so peruse your options before opting for traditional silver motifs.
Kitchen countertops. Metal-finished kitchen countertop surfaces are decidedly "in" right now. Stainless steel is the most popular choice. Copper is absolutely stunning and has anti-microbial properties. However, many clients prefer the softer gray of Zinc, which develops a darker gray patina over time. Another option is pewter, which has a warm and soft sheen not available from stainless steel, and pewter blends well with any color combination. You can also use a metal accent on your kitchen island, where hammered metals can add visual interest.
The traditional accents. There are also the traditional metal options for your kitchen remodel, including the appliances, lighting fixtures, sink, faucet and cabinet/drawer hardware. Again, we recommend taking the time to explore your options as the color and style variations are much more diverse than the average kitchen demonstrates. Let your kitchen designer know you are interested in something different so they can help you find just the right product.
Make an appointment to meet with the design professionals at Kitchens & Baths Unlimited. We'll help you create a Chicago kitchen design with metallic accents that enhance your style.
Photo credit: Premier Surfaces