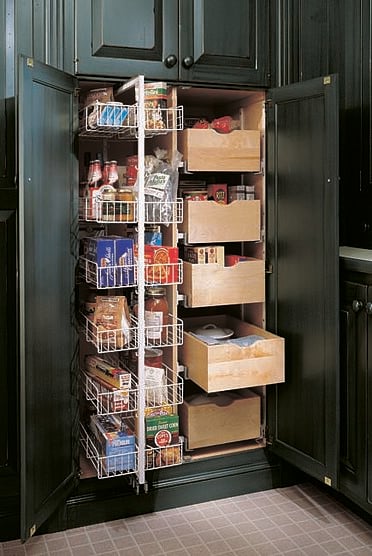 Cabinets are no longer a one-size-fits all enterprise. Custom kitchen cabinets allow you to place and organize cabinets in a way that makes sense for your kitchen layout, the appliances you need to store, and the kitchen activities you participate in the most.
The following are suggestions for organizing your custom kitchen cabinets to optimize storage space and efficiency.
Message center. If you have a garage or outside door that opens into the kitchen, we recommend using some cabinet space for a customized message center and parking station. Key hooks, surface space for your wallet and purse, a message board and calendar, or customized drawers for gadget recharging stations are all options.


Pull-out racks and utensil organizers. Think about the kitchen utensils, pot holders and oven mitts and other gadgets you use the most while cooking. These can all be housed in pull-out racks or customized utensil organizers in a drawer or two. This minimizes the clutter you find in a typical utensil drawer.


Customized pantry space. Whether you have a walk-in pantry, or will be using cabinet space for your pantry needs, your pantry design is critical to an efficient kitchen. You need to be able to find exactly what you want without having to reshuffle shelved goods. Consider swing-out pantries and pull-out shelves.


Pots and pans storage. Pots and pans are often shoved into cavernous cabinet spaces, making it difficult to retrieve them. Instead, we'll install pull-out shelves in a cabinet near the stove so you can access your pots and pans with minimal effort.


Vertical storage. Don't forget to add vertical storage for baking sheets. When stored vertically, you don't have to do the awkward lifting and scooting to get them out of a stack, nor do you have to remove half a cabinet's contents to remove a bottom sheet or pan. This is an ideal way to use extra space alongside the oven or refrigerator.


Knife storage. If you prefer to have a clean kitchen counter look, without the clutter of small kitchen appliances or the knife holder, design a knife drawer. It's a clean and safe way to house knives in a blade-specific rack. When placed within reaching distance of your food prep area, they're always accessible.


Spice drawer. There are two ways to efficiently store spices in your kitchen. The first is in narrow racks that can be pulled out of a deep cabinet space or pantry. The second is a spice drawer. The spices are laid out in rows on gently sloped supports. It's neat and keeps your spices handy.


Expandable space. We love the Lemans internal organizers by Häfele because they make it easy to access kitchenware from typically hard-to-reach places, including awkward corner cabinets.


Built-in trash. Whether you opt for a trash compactor or a slide-out trash drawer, your trash receptacle can be integrated to blend into your custom kitchen cabinets.
Contact Kitchens & Baths Unlimited when you're ready to design custom kitchen cabinets for your Chicago kitchen remodel.