Determining the style and placement of your new kitchen's lighting systems is an important step you'll need to take during your kitchen remodeling project. You should consider your lighting options during the initial planning and design process, because your desired lighting may require additional electrical work that needs to be done before other new components and materials go into the space.
To make sure that you get the best possible lighting for your new kitchen, take these tidbits into consideration.
What Style of Lighting Should I Get?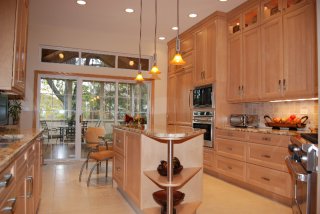 Generally speaking, there are three lighting "styles" you should consider: Ambient, Accent, and Task lighting. Accent lighting is most often used in kitchens, but recent design trends that focus on "opening up" a room use clever ambient lighting. To simplify the differences between these styles, you can think about them from a practical standpoint.
You can think of accent lighting as lighting that simply adds a design "accent" to the room. The design of the fixture, the embellishments and the style of the lamp and the frame all contribute to the look and feel of the kitchen space. If you have an eye for design and style, you can select fixtures that add to your overall kitchen design. An ornate, elaborate chandelier will contrast and look out of place in a minimal, modern kitchen redesign, though. Accent lighting is beautiful on its own, and you'll want to select something that contributes that charm and beauty to the rest of your kitchen.
Ambient lighting is a more recent trend that has caught on from modern kitchen designers. Ambient light fixtures are hidden out of view from your guests, and take advantage of natural light from outside with well-placed windows so that light seems to "pour" into the kitchen space from an unseen source. Where accent lights add to the kitchen with ornate fixtures, ambient lights add to kitchen space with simplicity. Ambient lighting can be installed above and under cabinets, into the ceiling, and tucked away in other not-so-obvious spaces to create a warm, inviting space that is as open and functional as it is beautiful.
Task lighting is an important addition to the other two styles, because it will give you access to light in spaces you might not otherwise have any. If your kitchen preparation area is under a cabinet, you might have a hard time seeing what you're preparing. With task lighting hung above your countertops, you have extra lighting helping you get the most out of your kitchen at a moment's notice.
How Many Lights Do I Need?

Of course, your designs are ultimately up to you. However, many designers rely on the "rule of three:" design elements are best utilized in groups of three. This means three main lights in your kitchen, unless you need to scale up for a larger space. Ambient lighting can create the illusion of three major light sources with multiple fixtures, while hanging accent fixtures and pendant lighting can be arranged neatly in rows or groups of three.
If you think you need more lighting throughout the kitchen, or you have a large kitchen space, more lights are absolutely fine. If you need more light in one particular area, additional task lighting is the way to go.
What About Recessed Lighting? Pendant Lights?
Recessed lights are installed in the ceiling, and allow the bulb to sit "inside" the ceiling. This is an excellent feature, but you have to know which bulbs to use, and how to space them. Many fixtures come with an "SC" number that tells you how far apart recessed fixtures should be from each other. Our talented designers can work with your choice of recessed fixtures, and will research these numbers to calculate exactly how many recessed lights you need, and how far apart they need to be.
Pendant lights are similar, but require less raw calculation more of a design sense. These lights hang from the ceiling and cast light down to the floor, island countertop or tabletop. If you are placing pendants above a table space, you can drop them down lower to give the table more intimate lighting. If you're using pendant lighting as an overhead fixture, you'll want to keep the pendants raised higher. Mini-pendants that use compact LED and CFL bulbs are excellent for adding modern pendant lighting to any kitchen and dining space.
You can bring your remodeling ideas to our professional kitchen designers, and we'll work with you to determine the lighting you need for the dream kitchen of your choice. Or, you can leave it up to our expert kitchen designers to find a selection of fixtures that compliment your kitchen redesign, and choose for yourself from there.