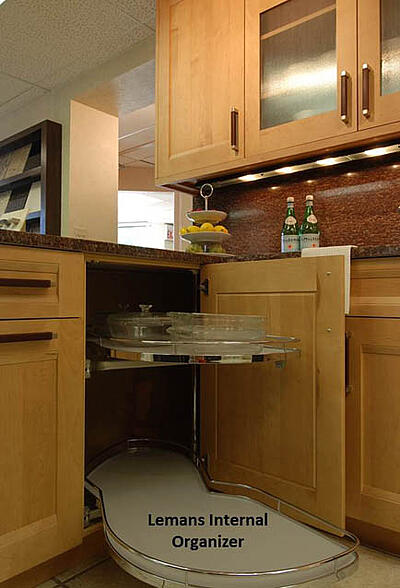 The modern kitchen renovator may be surprised when one of the first questions a Chicago kitchen remodeler asks is, "So, how do you use your kitchen?". What? Don't we want to see your carefully organized kitchen stylebooks first? We're talking about designing your dream kitchen here!
Of course we do, but as kitchens have shifted from a hidden area of the home to socializing central, their designs have evolved considerably. The modern homeowner and kitchen designer needs to focus as much on flow, function and kitchen storage solutions as they do about looks to create a kitchen that is as efficient as possible. This is especially the case when remodeling a smaller kitchen space in an apartment, condo or townhome.
Check Out These Creative Kitchen Storage Solutions
According to the ForResidentialPros.com product trends report, "Products need to work for the specific lifestyle needs of homeowners. Designers must think not only about practical cooking needs, but also the type of storage and organization their clients want for dishes, pots and pans, pantry items and even wine."
To accommodate the traffic flow and sociability of kitchens, layouts have changed. Modern kitchen storage takes place more predominantly in tall pantry cabinets, lower-level cabinetry, and customized drawers rather than traditional wall cabinetry. This has driven a need for more convenient and efficiently organized kitchen storage solutions.
Some of our favorite kitchen storage solutions include things like:
Glideware. Get rid of the pots and pans cluttering up the air space above your island or taking up significant and inefficient storage in large, undercabinet spaces. Glideware is one of the most convenient ways to store your entire collection of cookware, sliding directly out from the cabinet space(s) of your choice. This system is perfect for universal kitchen designs and eliminates that cacophonous banging of pots and pans. It also keeps your pots and lids together, preventing the scratches and dings that occur when you're shuffling everything around, trying to find what you want.
ArciTech Drawer Systems. Don't have room for a pantry? Hettich has solved that problem for you by designing an innovative drawer and pantry systems that can be incorporated right into your kitchen drawer space. It is an excellent choice for those with smaller kitchens or who prefer the look of an integrated kitchen design.
Contemporary Wine Storage. The prevalence of cooking shows have brought the wine and gourmet food culture to the heart of every family's kitchen, so wine storage for the modern kitchen requires more than a small countertop rack. From wall-mounted modular wine storage to racks that can be cleverly built into your existing cabinetry, there is a wine storage option for every design taste and collection.
High-quality hardware and fittings. It's easy to find kitchen storage solutions that are attractive, but they need to be high-quality and durable to really live up to the functional factor. These days, people stay in their homes longer and realize the value of investing in high-quality cabinet fittings and hardware that will last.
Is the kitchen the heart of your home? Contact a Chicago kitchen designer and remodeler who puts function, storage and efficiency at the forefront of the design process.