Sometimes our Chicago area clients are so caught up in the big decisions for their modern kitchen remodeling project - like countertops, cabinets and paint colors - they forget about the little details that make the design complete. Cabinet hardware is one of these details and it's important to select hardware that adds to your kitchens style, whether it be contemporary, transitional or traditional.
For this feature, we'll be focusing on the hardware that helps to make a contemporary kitchen remodel really strut its stuff. While there is a bit of crossover, like retro knobs or pulls that work in both traditional and contemporary kitchens, there are also spectacular door handles, knobs and drawer pulls that are as modern as it gets.
Here is a look at a few examples to get your neurons firing while standing in the swirl of hardware possibilities. Remember that your kitchen designer can be right there with you, helping you select the styles that blend with the rest of your finishes.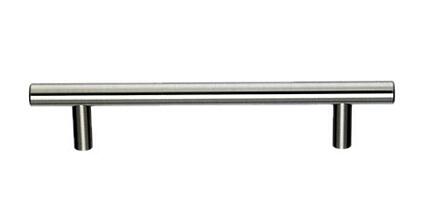 Tubular bar pulls. This is about as contemporary as it gets, short of having no hardware at all. Tubular bar pulls help to accentuate the linear and streamlined look that modern kitchen design is known for. They work well on both flat-panel and shaker-style cabinet doors and are an excellent option if you are hoping to age in place because they don't require a strong grip to be opened. The ends can be open or flush (if you've ever caught an item of clothing or a purse on the end of the open-style drawer pulls, you understand why we recommend the flush version).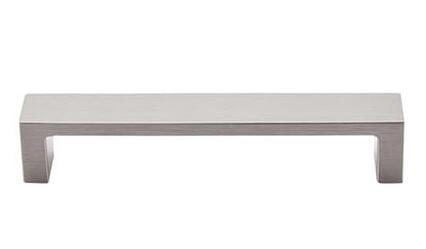 Flat bar pulls. This is the more masculine cousin of the tubular bar pull. Flat bar pulls accentuate the linear features of a contemporary kitchen remodel even further and they make a strong statement. If you like shaker-style cabinets but fear they may look too transitional with some of your other design choices, flat bar pulls may be the way to go as they definitely modernize the look. And, similar to tubular bar pulls, these are also a preferred option for accessible kitchen designs.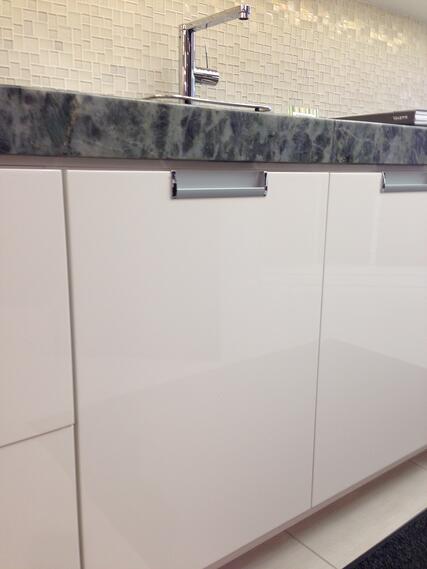 Recessed drawer pulls. This look keeps things flush without any hardware protruding into open space. Recessed drawer pulls look great in any kitchen but are of particular benefit to those in smaller kitchen spaces where an open refrigerator or dishwasher door cuts it close with nearby cabinetry. They prevent those irritating dings and scrapes that mar your brand new finishes! Recessed pulls are also appreciated by the food preppers and cooks as they can't get caught on clothing, accessories or errant thighs and hips that are moving quickly.
C- or J-channel rail or integrated wood pulls. Here is another one for those who like the completely minimalist look without anything cluttering up the cabinet and drawer faces or air space. C- and J-channel rails or pulls are built directly into the cabinetry. Keep in mind that grime and spills will accumulate in the channels so routine cleaning is a must.
Can't quite decide which type of hardware will work best for your upcoming kitchen remodeling project? Schedule a consultation with Kitchens & Baths Unlimited and our designers can lend you a helping eye.