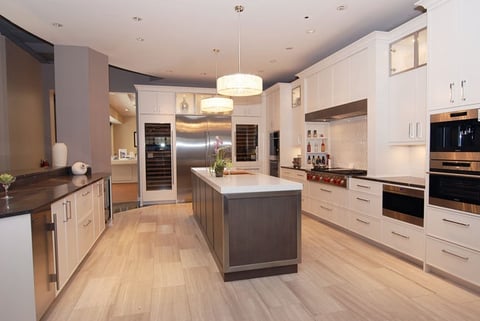 A while back, we posted, Designing for the Creative Cook, in which we outlined features gourmet cooks should consider remodeling. However, not every chef is "gourmet."
Some of us are just darn good cooks, and we work tirelessly in our kitchens – day in and day out – providing healthy, delicious meals for our household occupants.
Chicago Kitchen Design Ideas for the Practical Chef
Does that sound familiar to you? In that case, forgo articles geared for gourmet chefs and serial bakers. Instead, review these highlights for practical kitchen remodeling ideas that will lead to a more enjoyable, daily food prep and cooking experience.
Design a kitchen layout that works for you
Kitchen layouts should be completely functional – for you. Or, for you and the person/people who work in the kitchen the most. In these months leading up to your Chicago kitchen remodeling project, meticulously analyze how you work and move in the kitchen.
What's getting in your way?
What causes your most typical moments of frustration?
What do you wish was different?
What do you wish you could add or take away from your current layout/design?
The answers to these questions help your kitchen design and build team present layout options that are personalized to the way you and your household use - and cook in - the kitchen.
Take a look at these 6 Most Popular Kitchen Layouts and see if any of them spark your interest.
Who (or what) else is in your kitchen space?
One of our client's top priorities was to get a designated pet feeding station into her kitchen. Was it because her dog ruled the house? No. It was because her husband drove her crazy whizzing back-and-forth as he assembled the dog food (kept in the pantry), canned food (stored above the fridge) and cleaned dog dishes (at the sink) each evening as she prepared dinner. The interference drove her nuts.
Examine who and/or what is in your kitchen space each morning, afternoon, evening. This provides insight into design considerations that facilitate your daily cooking duties.
Again, the right questions/answers lead to more efficient kitchen designs.
Is everything accessible?
Universal – or accessible – kitchens are in the news quite a bit lately. What originated as a design tenet for seniors and disabled homeowners has spilled into the general design world because it makes it easier for everyone.
In the case of the kitchen's main chef – ensuring everything you need is readily accessible means you can be a more efficient and stress-free cook. This includes things like:
Designing a chef's kitchen means designing a kitchen that's made for facilitating organized, efficient and no-nonsense daily use.
Schedule a consultation to speak with the design experts at Kitchens & Baths Unlimited. We'll help you create a Chicago kitchen design that speaks to who you are and your daily kitchen habits.