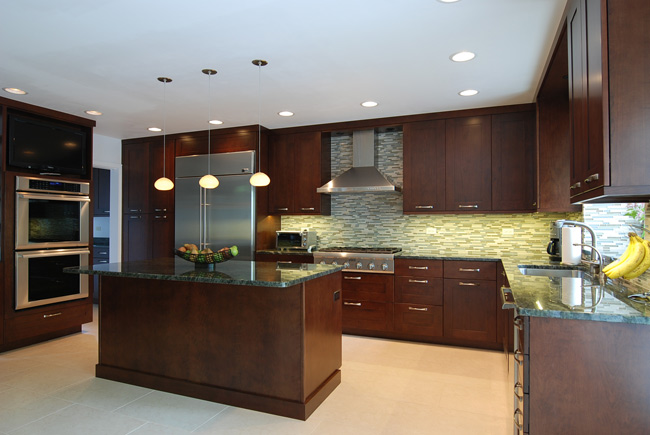 Hardware for a Chicago kitchen and bath remodeling project may be one of "small" to-dos on your list of aesthetic selections. However, it's what most design-builders would consider a Big-small choice because cabinet hardware can pack a pretty powerful punch when it comes to design.
In some kitchens and baths, we'd even say the hardware made the difference in whether or not the design came off with modern, transitional or traditional flare. And, if you go the eclectic route, hardware can become a showpiece of sorts - sharing the limelight with some of the other features and finishes.
Choosing Cabinet Hardware For Chicago Kitchen & Bath Remodeling Projects
In order to make your way through the seemingly infinite array of cabinet and drawer hardware, you need to narrow your focus. Otherwise, you'll be overwhelmed and can wind up making a choice that does the job, but doesn't have the visual impact it might have otherwise.
Step One: Work with a Chicago Kitchen and Bath Remodeling Firm
Working with a professional design-build team is one of the easiest and quickest ways to cut to the chase and hone in on the selections that make the most sense for your bathroom or kitchen remodel.
If you have a picture of your current design, design ideas or a general sense of your style, designers will guide you to hardware selections that are most suited for the space, so you only view samples that make the most sense for your household.
Step Two: Hone in On Design Style
Thus, honing in on your design style is an important step in the process. The shape and design of cabinet door pulls and drawers are in line with basic design tenets. So, traditional options will have a higher profile and may boast detailed embellishments (window sash pulls or knobs with background embellishments), while modern kitchens may opt to use minimal hardware, focusing on low-profile, linear designs (bar or recessed pulls).
Or, perhaps you're a transitionalist. In that case, you may decide to go with shaker style cabinetry, contemporary stainless steel appliances and more traditional hardware that balances the two.
You'll also want to think about finishes. There is an unspoken rule about matching plumbing fixture and lighting finishes. While this isn't necessary all the time, some degree of cohesiveness is important. That being said, don't be afraid to mix-and-match hardware style within the same finish to generate more interest. If resale value is a consideration, pay attention to current finish trends.
Step Three: Don't Forget About Function
Function matters. If cabinets will be used heavily, or used by children, heavier-duty options are a must. Similarly, those with physical considerations - and couples who plan to age-in-place, may want to address accessibility over the long-term. For example, bars pulls and bin pulls are easier to grip than knobs, and both can be opened with a single finger or a tool if necessary.
Feeling overwhelmed by all the hardware choices available for your Chicago kitchen and bath remodeling projects? Come by Kitchens & Baths Unlimited and our team will give you the guided tour, helping you select the "just right" hardware for your cabinetry.