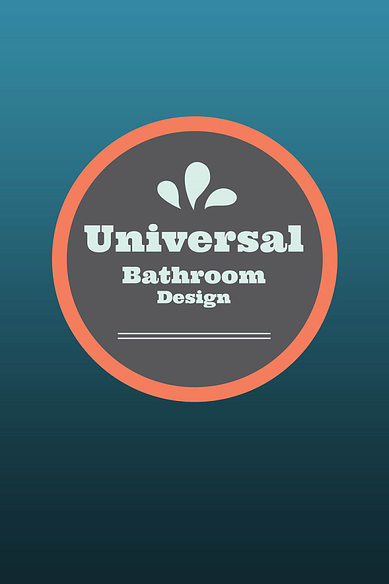 In the beginning, the terms "accessible design" or "universal design" became marginalized to mean "designs for the old and/or infirmed". Nowadays,
universal design principles
are touted by some of the most prestigious architects and designers in the nation. Why? Because they realize the value of designing homes that are automatically built for accessibility.
This allows for a design where people can age-in-place, where and unforeseen injury, illness or surgery can be transitioned to business-as-usual rather than requiring a full remodel, and because it makes your home desirable to a wider sector of the home buying population when and if you decide to sell. Perhaps, most importantly, accessible design features make your home welcoming to anyone and everyone who visits or stays on as a guest.
If you are in the process of building a new home or remodeling yours, consider how a universal bathroom design can enhance your day-to-day life.
Features For a Universal Bathroom Design
Non-slip surfaces. Who doesn't benefit from this concept? Bathrooms are one of the most dangerous rooms in your house due to slippery tub and shower flooring, combined with all the surrounding hard surfaces. Non-slip surfaces and excellent drainage are a great start for making your bathroom safe for everyone, from little people to adults. Use 2x2 mosaic tiles for shower areas and choose bathroom tiles that are less prone to being slippery when wet, such as glass and glazed ceramic floor tiles with an anti-slip finish. You can also search for flooring that meets the Americans with Disabilities Act (ADA) criteria for non-slip flooring.
Plenty of clearance. Assume that at some point in your home's lifetime, someone will need to use a wheelchair, cane, crutches or walker. This means they'll need a wider clearance through and around doors, and plenty of room to maneuver around and between the commode, shower and vanity areas. This requires at least 5-feet of open space, and we recommend installing doors that are 36-inches wide, as opposed to the standard 30-inches.
Walk-in showers. Embrace the contemporary trend towards walk-in showers. It provides a stylish and streamlined look and eliminates the lip that can become a trip hazard.
Grab Bars. Install grab bars alongside your toilet and in the bath and shower areas. These can be attractively integrated into your design and will come in handy more often than you think. This can be one of the most resisted additions to the bathroom and yet we bet the whole family will begin using them on a regular basis once they're in place.
Drawer pulls and cabinet handles. Have you ever had your arm in a cast? If so, you understand the importance of a strong grip and how often it's required for day-to-day functions. A compromised grip, due to injury, arthritis, etc., can make it nearly impossible to use most drawer pulls and cabinet door handles. Use large, D-shape drawer pulls and handles instead.
Interested in a stylish universal bathroom design? Contact us at Kitchens & Baths Unlimited.