Deciding on a finishing option for your custom cabinetry can be challenging, but more than anything, it should be fun. With a wide variety of finishes and techniques available, there's no reason why you can't have cabinets that you love, and no one else has!
So, let's take a look at seven of the most common finish options for your kitchen cabinets…
Painted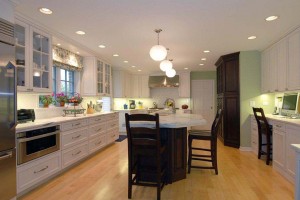 Painted cabinets are a great way to add bold color or texture to your kitchen. Cabinets that are painted will not show any wood grain at all. Whether you're trying to cover up a poor grain in a DIY remodel, or make a statement with new custom cabinetry, painted is a great way to go.
Stained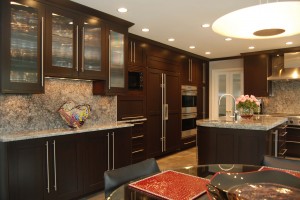 In our opinion, staining is the best way to show off a cabinet's stunning wood grain. Depending upon the type of stain and the number of times it's applied, you could end up with a light and airy result or dark and masculine appearance. If you have beautiful wood grain, why not stain?
Crackled Finish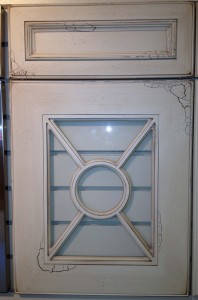 Cabinets with a crackled finish – especially when done in ivory or cream – can have a gorgeous farmhouse appeal. This finish is a great way to add depth and texture to painted custom cabinetry. You might even want to have fun by crackling the center, or other parts, and leaving the rest of the cabinets with a crisp, freshly painted look.
Paint With a Glaze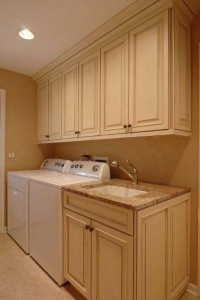 If you love paint, but want to attain the feeling of depth that stained cabinets have, and then paint with a glaze could be your ticket. After the painting process, a glaze goes back with a second color, mainly detailing the grooves of the door and any other points where the surface changes.
Stain With a Glaze
This fifth style is just like paint with a glaze, but uses stain instead. The effect produced with this technique is exactly what most people imagine when they think "stained cabinets." Stain with a glaze is a look that is refined and elegant, drawing out the best texture and depth from the wood.
Brush Stroke
This look is similar to the glaze look in that a second color is applied on top of the paint or stain. Instead of only touching the grooves, the brush stroke effect covers the face of the entire cabinet. It's a stunning and popular look!
Distressing Options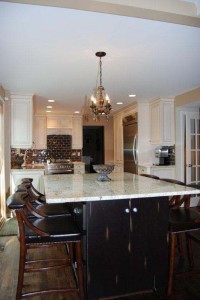 No mater what kind of finish you choose for your custom cabinetry, cracks, rub-through, worn edges, splatter, worm holes, dents, and other distressing options can make your cabinets look unique to you. When an experienced professional applies these distressed looks, your cabinets can look rustic and finely textured.
Have more questions about finishing options and kitchen remodeling in the Chicago area? Send them our way, and we'll be glad to help!