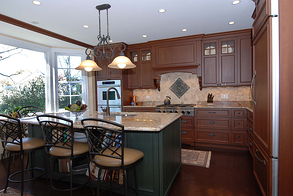 When it comes to remodeling your kitchen, there are a number of options for your kitchen cabinets. You may be asking yourself whether all your kitchen cabinets should reflect the same style and color. The answer from Kitchens & Baths Unlimited is this: it depends.
Traditional Kitchen Cabinets
If you want a more traditional looking kitchen, then you may want to keep all of your kitchen cabinets the same style and color. With a classic white or historically relevant color, or even finished wood cabinets, you can create a beautiful level of consistency in your kitchen. Of course, even if you opt to keep your kitchen cabinets similar, you may find that you want to add a little bit of distinction in your countertops or accessories for a unique, customized look.
Mixing and Matching Kitchen Cabinets
If your preferred style of kitchen is a fresher, more updated look, your kitchen cabinets don't have to match. The key to making sure that your kitchen still looks and feels cohesive is to have some level of consistency. One way to mix and match your kitchen cabinets is to keep similar sections of your kitchen. For example, your kitchen island cabinets may be distinct from the perimeter kitchen cabinets (those that are mounted on the wall).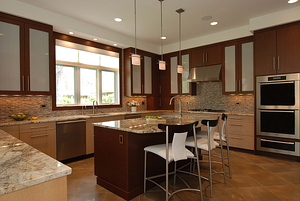 Another way you might achieve a marriage of different kitchen cabinet styles within the same kitchen is to create a distinct look between upper and lower wall mounted cabinets, while keeping a similar color scheme. This can be an excellent strategy if you would like a traditional look for your kitchen with a slightly more modern flair.
The Verdict on Kitchen Cabinets
What it all comes down to is this: whether or not you want your kitchen cabinets to be the same style and color is entirely up to you. Of course, at Kitchens & Baths Unlimited, we are always available to help provide you with these important decisions. After all, your kitchen cabinets should be a high-priority investment that combines form and function for a beautiful kitchen with plenty of storage space.